Absolutely thrilled to be hosting my turn on the A Suitable Lie blog tour.  Michael J Malone has written a cracking book.  Read on to find out what I thought of it.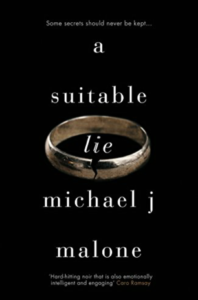 The Blurb
Andy Boyd thinks he is the luckiest man alive.  Widowed with a young child, after his wife dies in childbirth, he is certain that he will never again experience true love.  Then he meets Anna.  Fiesty, fun and beautiful, she's his perfect match…and she loves his son like he is her own.  When Andy ends up in the hospital on his wedding night, he receives his first clue that Anna is not all that she seems.  Desperate for that happy-ever-after, he ignores it.  A dangerous mistake that could cost him everything.
A brave, deeply moving, page-turning psychological thriller, A Suitable Lie marks a stunning departure for one of Scotland's finest crime writers, exploring the lengths people will go to hide their deepest secrets, even if it kills them…
My Review
A Suitable Lie by Michael J Malone is a gripping read that I found incredibly difficult to put down. Michael has twisted the domestic noir genre on it's head and done it in an intelligent, sympathetic and moving way.
The story follows Andy a single father who meets Anna and after a whirlwind romance marries her. Anna, however, is not what she seems. What follows is an all absorbing story that keeps you reading late into the night and a moving tale about one man's experience of domestic abuse. It does not always make for comfortable reading however this is important to the story.
The characterisation in A Suitable Lie is fantastic. Using first person narrative and told through Andy's perspective the reader really gets into Andy's thoughts and feelings…you completely go on his journey with him. What I loved is that although Anna is essentially an un-likeable character who displays despicable behaviour Michael, later in the novel, shows her more human side. It is also a depiction of what the impact of childhood trauma can be and the wider impact it has in the future, as Philip Larkin once said 'They f**k you up, your mum and dad. They may not mean to, but they do.' Towards the end of the novel I felt a degree of empathy towards Anna and will be interested to hear if other readers felt the same.
The mix of emotions that Michael portrays throughout the book are intelligently written and shows an acute understanding of the subject. He perfectly captures the difficulty of loving the aspects of the person that are good while struggling to make sense of their abusive behaviour and the lies you tell yourself that keep you involved in the relationship. The complexities of this situation are put across with empathy. Along with the gripping story line this is a very character driven book and this makes it all the more compelling.
A Suitable Lie is an accurate portrayal of how domestic abuse effects male victims – the emotional torment they go through and the impact on their self-esteem which takes a different form to the impact it has on a woman's self-esteem. The reasons they cannot tell anybody about what is going on in their relationship are different to reasons a woman can't and is very much wrapped up in their feelings of masculinity and the fact they won't be believed. The manipulation tactics used by Anna highlight the added difficulties a man has in seeking help as the authorities are not ready to accept that a man can be the victim of domestic abuse at the hands of a female. It certainly made me think about all the issues involved, an aspect I always love in a book.
Michael has written an evocative, dark and emotional novel that also works as a compelling psychological thriller. I really liked hearing the man's perspective in this issue. It is unflinching at times in it's descriptions of the abuse and I sat reading with my jaw wide open. Michael took me into a realm I hadn't before even begun to imagine. Well written, with great pace and a shocking yet moving story, A Suitable Lie is a fantastic book that needs to be added to your TBR list. Although a work of fiction, I would hope that this book goes somewhere to highlight the issues in this unfortunately unseen area of domestic abuse.
A huge thank you to Michael J Malone and Karen at Orenda Books for my copy.
Published 15 September 2016 by Orenda Books.
You can purchase your copy HERE.