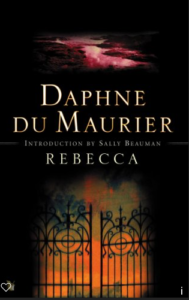 The Blurb
Last night I dreamt I went Manderley again…
Working as a lady's companion, the orphaned heroine of Rebecca learns her place.  Life begins to look very bleak until, on a trip to the South of France, she meets Maxim de Winter, a handsome widower whose sudden proposal of marriage takes her by surprise.  Whisked from glamorous Monte Carlo to his brooding estate, Manderley, on the Cornish Coast, the new Mrs de Winter finds Max a changed man.  and the memory of his dead wife Rebecca is forever kept alive by the forbidding Mrs Danvers…
My Thoughts
Du Mauriers classic novel about a young woman who meets Maxim De Winter while working as a ladys companion in Monte Carlo and quickly marries him. Maxim is a wealthy man who lost his wife, Rebecca, in an accident a year ago and is the owner of Mandeley, a beautiful home on the coast, well know for its parties. On returning to Manderley following their marriage the narrator is haunted by Rebecca and the fact that she can not live up to her much loved and adored predecessor.
We never find out what the narrators name is and this adds to the feeling that Rebecca permeates everything at Manderley. We see the insecurities in the narrator, her sense of being unable to ever live up to Rebecca and compete with the dead woman, her worry that Maxim will never love her the way he loved Rebecca all compounded by the housekeeper, Mrs Danvers, and others remarks about how she is not like Rebecca.
At times I felt incredibly frustrated by the narrator and doubted if Maxim had any breadth of feeling for her, however when the truth unfolds it all makes sense and I feel Du Maurier deliberately portrayed her this way in order for the reader to feel sympathy and root for the couple in circumstances in which you wouldn't normally.
This book is beautifully written and Manderley almost becomes a living organism in itself and a central character in the novel. This and the use of weather to highlight the psychological states of the characters is very well done and is reminiscent of one of my favourite novels, Wuthering Heights. More than just a love story or a Gothic novel, this book also uses psychology to progress the story and the characters.
It is difficult to write a review that does not spoil the story and give away the twists at the end for those who have not read it. I loved this book, it kept me wanting to read more and the prose is stunning. It is firmly on my list of favourites and one that I return to again and again.
Published 9 February 2012 by Virago.
First published May 1938.
Reviewed 16 January 2016