Very, very excited to be on the Want You Gone by Chris Brookmyre blog tour today and sharing my thoughts on his latest book. I LOVED his last book Black Widow and could not wait to get my mitts on this book. Anyway, on to what Want You Gone is about and my thoughts on it…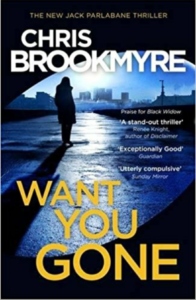 The Blurb
What if all your secrets were put online?
Sam Morpeth is growing up way too fast, left to fend for a younger sister with learning difficulties when their mother goes to prison and watching her dreams of university evaporate. But Sam learns what it is to be truly powerless when a stranger begins to blackmail her online, drawing her into a trap she may not escape alive.
Who would you turn to?
Meanwhile, reporter Jack Parlabane has finally got his career back on track, but his success has left him indebted to a volatile source on the wrong side of the law. Now that debt is being called in, and it could cost him everything.
What would you be capable of?
Thrown together by a mutual enemy, Sam and Jack are about to discover they have more in common than they realise – and might be each other's only hope.
My Thoughts
After absolutely loving the last book in the Jack Parlabane series, Black Widow, I could not wait to get my hands on this book. I have to admit to being new to Chris Brookmyre and the series, however, I intend to rectify this (when I find the time!) and read the rest of the books. Want You Gone did not disappoint and I loved this book. If you haven't read the rest of the books in the series, don't worry you can easily pick this book up and read it as a standalone.
I was gripped immediately. The prologue is dark, brooding and leaves you with so many questions you want answering you cannot help but read on. The compelling voice that kick starts the main body of the book after the prologue drags you in further, and what follows is a fast-paced, suspenseful, relevant thriller with another great main character alongside Parlabane.
I don't want to talk about the plot too much as you need to discover this book for yourself, but I will say that Brookmyre has crafted a current novel which deals with cybercrime, hackers and corporate greed. As someone who is wary of social media, Want You Gone had me checking my PC security! Brookmyre has clearly researched the issues of internet security and hacker groups meticulously as it comes across as authentic. The plot is complex but expertly put together and full of jaw-dropping twists and turns.
Brookmyre has a knack of creating complex characters who leave you with a combination of feelings towards them, and Sam Morpeth in Want You Gone is no exception. She is a well-rounded character with a depth that makes her believable, and this is one of the joys of the two books in this series that I have read. He manages to incorporate these layers without slowing down the pace. You can't help but like Jack Parlabane, he has had his fair share of troubles and just as he seems to be getting back on his feet, he is thrust back into a complex situation that threatens his well-being.
Want You Gone is an absolute cracker and this has put Brookmyre firmly on my list of favourite authors. A nail-biting, tense and twisty book that needs to be on your TBR pile!
Published on 20 April 2017 by Little, Brown.
A huge thank you to Chris Brookmyre, Little, Brown and Netgalley for the ARC in exchange for my review. Thank you to Grace at Little, Brown for inviting me to take part in the blog tour. Make sure to catch the rest of the bloggers on the tour.