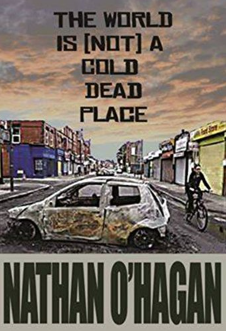 The Blurb
I have developed a detachment from the rest of the human race. I don't fear them. I don't consider myself above them. It's just that I genuinely loathe them. There is no reason. I wasn't abused as a child. There were no traumatic events in adolescence, no heartbreak or rejection in early adulthood. Nothing to account for the person I have become. I shall offer no explanation, no mitigation for what I am. But whatever the reason, I have come adrift from mankind, and that is where I intend to stay.
Welcome to Gary Lennon's world. It isn't a cold dead place. You'll like it there. You'll see things his way and you'll want to stay. But Gary's therapist has other ideas. He thinks Gary should get a job, meet people and interact with the real world. Look out, people. Look out, world.
My Thoughts
I have had this book on my TBR pile for what feels like a ridiculously long time, but I'm pleased to have finally got around to reading it. The World is [Not] a Cold Dead Place is very different to what I have been reading recently but in a good way and, as they say, a change is as good as a rest.
The world we inhabit as we read The World is [Not] a Cold Dead Place is Gary Lennon's. Living in Birkenhead, Gary's world is isolated and revolves around his flat, his two friends and his therapy sessions. Gary's obsessive compulsive disorder, social anxiety and depression mean that he has a certain way of viewing life. His relatively small world is about to be rocked, however, as his therapist has decided that he should get a job and start meeting people.
Gary is acerbic, cynical and has a very bleak view of the world. With biting black humour, O'Hagan has written a book that has you both laughing and nodding in agreement with his acute observations of the more ridiculous and astounding aspects of modern life. I really warmed to Gary, he is an anti-hero who says and does the things you wish you could but can't as you would never get away with. There are some pretty heart-breaking moments in the book and I was particularly affected by the story behind one of Gary's friend's nickname.
This could be a bleak and depressing read, but O'Hagan's mix of humour and biting observations ensure that this isn't the case. O'Hagan is clearly astute and questions what is going on around him and this shines through in The World. He has created a well-rounded character in Gary Lennon and, despite him not being a conventionally lovable character, you can't help but like him. The World is not a fast-paced book that is rammed with action and yet it is engrossing and during the periods when you can't read you are itching to get back to Gary and his world.
The World is [Not] a Cold Dead Place is a scathing, suspicious yet accurate account of modern society as seen through the main character's eyes – a character who in the same turn is endearing – and it is incredibly funny in places. If you like your humour on the darker side and you find yourself rooting for the underdog, introduce yourself to Gary Lennon by grabbing a copy of O'Hagan's book.
Published on 21 August 2015 by Armley Press you can grab a copy HERE.
---
#AroundTheUKIn144Books book 11. County: Merseyside