I can't tell you how excited I am to be taking part in Mark Edwards' blog tour for his latest novel The Lucky Ones. I'm thrilled to be sharing my review AND I have the man himself taking part in Author Influences, so you can find out about Mark's favourite books and authors. But first find out more about The Lucky Ones…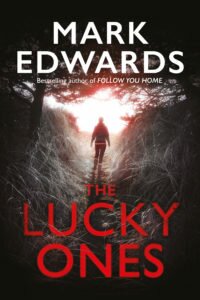 The Blurb
It was the happiest day of her life. Little did she know it was also the last.
When a woman's body is found in the grounds of a ruined priory, Detective Imogen Evans realises she is dealing with a serial killer—a killer whose victims appear to die in a state of bliss, eyes open, smiles forever frozen on their faces.
A few miles away, single dad Ben Hofland believes his fortunes are changing at last. Forced to move back to the sleepy village where he grew up following the breakdown of his marriage, Ben finally finds work. What's more, the bullies who have been terrorising his son, Ollie, disappear. For the first time in months, Ben feels lucky.
But he is unaware that someone is watching him and Ollie. Someone who wants nothing but happiness for Ben.
Happiness…and death.
The Lucky Ones is the terrifying new thriller from the #1 Kindle bestselling author of Follow You Home and The Devil's Work.
My Thoughts
It's no secret that I'm a huge fan of Mark Edwards's books and so I was incredibly excited to receive an advance copy of The Lucky Ones. So what did I think? Is it as good as his other books? 'As good as' is an understatement … I think it's his best yet and I absolutely loved it!
Set in a small village in Shropshire, this normally peaceful village has been rocked by a series of killings by who the media have dubbed 'The Shropshire Viper'. DI Imogen Evans, a detective recently transferred from the Met, is the lead on the case and has her work cut out finding the killer. Ben, with his son Ollie, has recently moved back to the Shropshire village where he grew up following the separation from his wife. Little does he know he is going to be the Viper's next target.
The prologue of The Lucky Ones drags you into the story and from there on it just doesn't let you go! Perfectly paced, Edwards ruined many a planned early night as once I started this book I just could not put it down. It is utterly gripping!
The characters are great, and Edwards makes full use of telling the story from three perspectives. We follow DI Imogen Evans in third person narrative as she investigates the spate of killings. Imogen is struggling to adjust to life in a rural area after being part of The Met. Imogen is likeable and while she certainly has issues from her past she is not the cliched detective that we so often see in crime novels. Ben is immediately likeable as the single father who is adjusting to his new life after a recent run of bad luck, and we see things directly from his perspective through first person narrative. Then we have the chilling voice of the killer. I always love to get into the mind of the killer and Edwards provides this as parts of the story are told directly by The Viper. This is a killer with a very skewed view of life and death and this makes him intriguing and interesting.
The premise of The Lucky Ones is great and totally different as the killer focuses on making his victims, bizarrely, happy! If something is too good to be true, it probably is could be the lesson learned from The Lucky Ones. Edwards had me constantly thinking I had it all figured out as to who the antagonist was to then prove me totally wrong and clueless. He led me up so many garden paths I was beginning to feel like a horticulturalist! This book totally kept me enthralled and on my toes!
If you have to read only one thriller this year make it The Lucky Ones … You will not be disappointed. Utter perfection!
The Lucky Ones by Mark Edwards is published by Thomas & Mercer on 15 June 2017 as an £8.99 paperback original.
A huge thank you to Mark Edwards, Lisa Shakespeare at Midas PR and Thomas and Mercer for my advance copy and for inviting me to take part in the blog tour.
And now I hand you over to Mark to tell you about his author influences…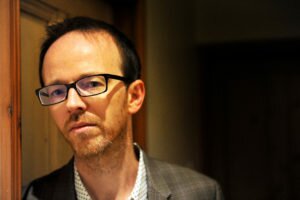 Which authors/books did you like to read as a child?
When I was at primary school I mainly read comics – everything from 2000AD to Whizzer and Chips! – but my first favourite author was John Wyndham. I was desperate to read Day of the Triffids after watching the BBC adaptation. My dad took me to our local book shop to get a copy and the bookseller told him it wasn't suitable for children. Luckily, he ignored her attempt at censorship.
A few years later, after I'd devoured Wyndham's back catalogue, I read and loved the first two Adrian Mole books. I still quote them to this day and spent half my life looking for a girl, like Sharon Botts, who will do anything for 50p and a pound of grapes.
Were you good at English at school? Did you like it?
It was the only subject I was good at. I loved writing stories, many of which were pretty dark and gruesome. I wrote a story about a house with walls that oozed blood when I was nine or ten. Later, when I was at secondary school, I was awarded the English Prize two years in a row. It remains the only literary prize I've ever won.
What genres do you like to read? Have they had an impact on the genre you write?
I mostly read crime novels and psychological thrillers. Elizabeth Haynes' Into the Darkest Corner was the first of the current wave of psych thrillers that I read and it made me realise that was the kind of book I wanted to write. I was fortunate to start publishing psych thrillers – and domestic noir – just as it took off and became the most popular genre.
Having said that, I think the market is so saturated now that it's getting harder to be original and fresh. There seem to be a lot of identikit domestic thrillers around at the moment, which is one reason my new book, The Lucky Ones, subverts the usual psychological thriller plot line by turning everything on its head…
If you were to write a different genre what would it be and why?
I love a good 'end of the world' novel and have always wanted to write one. I would love to pen something like Justin Cronin's The Passage trilogy – something really epic and dark.
Did any author's work encourage you to pick up your pen and write and if so who, what and why?
It's not a very original answer but it was initially Stephen King and James Herbert, plus Clive Barker to a lesser extent. I was a huge horror reader as a teenager and that was when I first started to dream about being a writer.
Then, in my early twenties, I read The Secret History by Donna Tartt, which remains my favourite book. It's perfect in every way, and I yearn to make readers feel as I felt when I first experienced that book.
Are there any authors who, as soon as they publish a new book, you have to get it?
Yes, quite a few. The aforementioned Donna Tartt, along with Bret Easton Ellis, Mo Hayder (my favourite crime writer), Elizabeth Haynes, Paula Daly, CL Taylor…I could go on and on.
Which books have you read that have made you think 'Wow, I wish I had written that' and what was it about the book?
This happens nearly every week! One that stands out is I Let You Go by Clare Mackintosh. That twist is so good – I think Clare really raised the bar with that and I've been obsessed ever since with coming up with a twist that good. To mention one more, I loved The Beautiful Dead by Belinda Bauer because it was so funny. Every line is read-aloud brilliant.
Have any of your plots/characters been influenced by real life events/people? (Be careful, I don't want you getting sued!)
Most of my psychological thrillers have been influenced by things that happened to me. The Magpies was based on my own experience of neighbours from hell; Follow You Home was inspired by a real-life disaster on a train in Europe. I don't really base books on real crimes, although I had to research Harold Shipman for The Lucky Ones as my killer uses the same method to murder his victims. It's terrifying that Britain's most prolific serial killer was not a prowling Hannibal Lecter type but a seemingly trustworthy, mild-mannered medic. Although, come to think of it, both Shipman and Lecter were doctors…
A massive thanks to Mark Edwards for taking the time to answer my questions brilliantly. You have made my month!
About Mark Edwards
After a career that has taken in everything from answering complaint calls for a rail company to teaching English in Japan and being a marketing director, Mark now writes full-time.
He live in the West Midlands, England, with his wife, three children, a ginger cat and a golden retriever.
Connect with Mark
Website: www.markedwardsauthor.com
Twitter:
Facebook:
Follow the rest of the tour…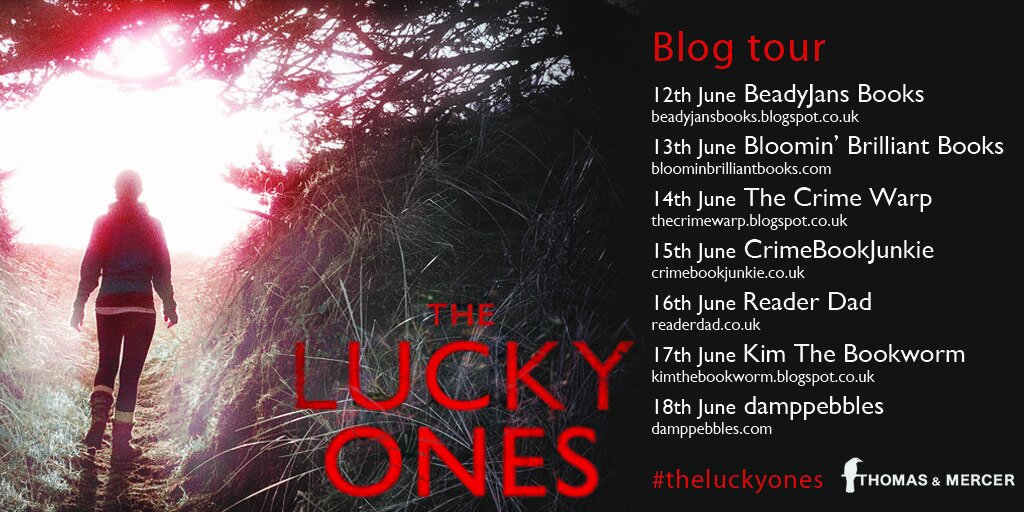 Around the UK in 144 Books Challenge Book 7: County – Shropshire