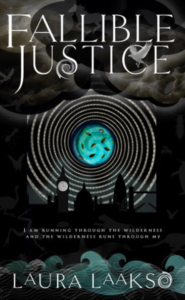 The Blurb
In Old London, where paranormal races co-exist with ordinary humans, criminal verdicts delivered by the all-seeing Heralds of Justice are infallible. After a man is declared guilty of murder and sentenced to death, his daughter turns to private investigator Yannia Wilde to do the impossible and prove the Heralds wrong.
Yannia has escaped a restrictive life in the Wild Folk conclave where she was raised, but her origins mark her as an outsider in the city. Those origins lend her the sensory abilities of all of nature. Yet Yannia is lonely and struggling to adapt to life in the city. The case could be the break she needs. She enlists the help of her only friend, a Bird Shaman named Karrion, and together they accept the challenge of proving a guilty man innocent.
So begins a breathless race against time and against all conceivable odds. Can Yannia and Karrion save a man who has been judged infallibly guilty?
My Thoughts
Fallible Justice by Laura Laakso is not the kind of book that I would normally go for, but I was totally drawn in by the beautiful cover and I couldn't resist it. It turns out that the words between the pages are just as great as the cover, and I thoroughly enjoyed Fallible Justice and I'm pleased to have discovered a great new author.
Laakso has combined crime fiction with fantasy and magic and it works really well, not least because of her talent for writing and character and world building. Fallible Justice is really well written with prose that draws you in to the world Laakso has created.
Yannia Wilde is a private investigator living in Old London. When she and her apprentice, Karrion, are asked to investigate the trial of a man who may have been wrongly condemned to death for the murder of a high-ranking council official it proves to be a challenging case, to say the least.
At first, this sounds like a fairly straight-forward idea for a story but what makes Fallible Justice different is the fact that nothing is of this world. The blurb explains it best when it states that 'paranormal races co-exist with humans in Old London'. Yannia is a member of the Wild Folk and her apprentice is a Bird Shamen. Laakso's writing is such that you completely believe in the characters, the fact that paranormal folk exist and you become part of that world. I adored Yannia, she is, despite being magical, very human with vulnerabilities and strengths like everyone else. I also warmed to Karrion immediately and loved the humour that Laakso injected into his character.
The other issue that makes the investigation difficult is the fact that the magic population's justice system is deemed to be infallible. This concept really interested me from the perspective that almost everything is corruptible but would this be the case when magic and otherworldly powers are involved? And if so, how? While set in a time and place different to the one we inhabit, Fallible Justice's themes are ones that we can all relate to.
Laakso's writing is wonderful and she demonstrates a soaring imagination. I loved her portrayal of nature and the juxtaposition between brutality and beauty that comes with the natural world. Everything has been so carefully and well-thought out down to how Yannia uses her Wild Folk power to the descriptions of Old London.
It's fair to say that I'm now a fan of the world that Laakso has created and I'm delighted that this is the first in a series. Laakso has created created enough intrigue with Yannia that you want to read the next book immediately, but, alas, we have to wait.
If you love crime fiction and fantasy or even if you love crime fiction but fancy a change and are not sure if fantasy is your thing, give Fallible Justice a try. I promise, you will not be disappointed. A brilliantly constructed and wonderfully written debut.
Fallible Justice was published on paperback on 8 October 2018 and ebook on 8 November 2018 by Louise Walters Books. Grab your copy HERE.
A huge thank you to Laura Laakso and Louise Walters for the copy in exchange for my review.