Welcome to another edition of Author Influences. This week I am delighted to be joined by H.A. Leuschel whose book Manipulated Lives I reviewed earlier this year.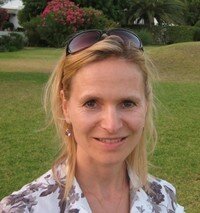 Which authors/books did you like to read as a child?
I grew up in a multi-lingual environment, so I'd have to name three main authors that I enjoyed reading as a child. Enid Blyton's books were at the top of the list. The Famous Five was my favourite series. I loved the idea of being fearless, going on adventures without adults' supervision, boys and girls equally capable of fending for themselves.
Being an identical twin myself, I was also a keen reader of the The Twins at St. Clare's, called Hanni und Nanni in the German translation. My sister and I could totally relate to the girls and the stories always made us laugh. We usually got two books at birthdays, so that we'd not squabble over who got to read a new book first!
As a third book series, I'd have to mention the Martine picture books by the Belgian author and illustrator Marcel Marlier & Gilbert Delahaye. The main character gets to go places, learns to swim, cook and dance and most of all, she learns to conquer her fears. As much as I find the series a bit stereotypical now, Martine conveyed a curiosity and an eagerness to learn which are universal traits in children I'd say.
Were you good at English at school? Did you like it?
As a toddler, I went to French kindergarten, then went to a German primary and secondary school where I was taught French and English as well as a spattering of Dutch. I love languages and was always keen to scribble, read and write in any of them.
What genres do you like to read? Have they had an impact on the genre you write?
I would say that I enjoy a wide variety of genres, it really depends on my mood but my favourite fiction genres are literary fiction and psychological thrillers. I also read nonfiction, especially related to philosophy, psychology or the natural sciences. It's the thought-provoking idea in a text that will catch my attention and maybe spark a new idea for my writing.
If you were to write a different genre what would it be and why?
I'm hugely intrigued by the studies of the mind and often find myself perusing articles about the latest developments in Artificial Intelligence. I think writing a novel with a Sci-Fi angle would be tempting.
Did any author's work encourage you to pick up your pen and write and if so who, what and why?
Simone de Beauvoir has had a huge impact on me as a teenager and well into my twenties and thirties. She's the only author whose books I can read again and again. I've read all of her writings – fiction and non-fiction alike but if there is one of them that I'd highly recommend to every reader, it would have to be A Very Easy Death. In this short book, she tenderly and with shocking clarity recounts the last phase in her mother's life. It's so simple yet poignant, moving and very powerful in its message. The author shows with great honesty that when facing the death of a parent, emotions can not only take you by surprise but over-ride the urge to rationalize the process of dying.
Are there any authors who, as soon as they publish a new book, you have to get it?
That's a difficult one. I think a book needs to fit with my current mood, so anything can attract my attention for different reasons. Having said that, I'd always be keen to read another of Margaret Atwood's novels, the next Isabel Dalhousie instalment in Alexander Smith McCall's series or check out the latest book by Ian McEwan.
Which books have you read that have made you think 'Wow, I wish I had written that' and what was it about the book?
The books I most enjoy offer a mix of suspense, mystery, depth of character and a setting that mirrors the psychology of its protagonists. To name just a few, I had a big 'wow' moment with The Bird Tribunal (Agnes Ravatn), The Fifth Child (Doris Lessing), The Road (Cormac McCarthy), The Mandarins (Simone de Beauvoir), Burial Rites (Hannah Kent), The Bastard of Istanbul (Elif Shafak) … but to be honest the list is so much longer than this!
Have any of your plots/characters been influenced by real life events/people? (Be careful, I don't want you getting sued!)
Manipulated Lives is my first published work of fiction and it is a collection of five novellas where I explore the core theme of psychological manipulation from five different perspectives. Each story aims to highlight to what extent abusive manipulation can distort lives and threaten a person's feeling of self-worth.
Personal tragic circumstances and the completion of a couple of creative writing courses with the OU and Oxford University had made me pick up the pen, then transfer my ideas into the writing of this collection of novellas as well as fulfil my long-term dream of becoming an author.
A huge thank you for taking part and for the wonderful responses.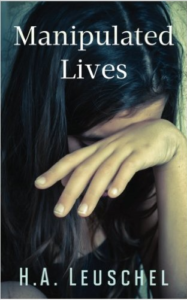 Manipulated Lives is out now (you can read my review HERE). Here is what it is about:
Five stories – Five Lives
Have you ever felt confused or at a loss for words in front of a spouse, colleague or parent, to the extent that you have felt inadequate or, worse, a failure? Do you ever wonder why someone close to you seems to endure humiliation without resistance?
Manipulators are everywhere. At first these devious and calculating people can be hard to spot, because that is their way. They are often masters of disguise: witty, disarming, even charming in public – tricks to snare their prey – but then they revert to their true self of being controlling and angry in private. Their main aim: to dominate and use others to satisfy their needs, with a complete lack of compassion and empathy for their victim.
In this collection of short novellas, you meet people like you and me, intent on living happy lives, yet each of them, in one way or another, is caught up and damaged by a manipulative individual. First you meet Tess, whose past is haunted by a wrong decision, then young, successful and well balanced Sophie, who is drawn into the life of a little boy and his troubled father. Next, there is teenage Holly, who is intent on making a better life for herself, followed by a manipulator himself, trying to make sense of his irreversible incarceration. Lastly, there is Lisa, who has to face a parent's biggest regret. All stories highlight to what extent abusive manipulation can distort lives and threaten our very feeling of self-worth.
About H.A Leuschel
Helene grew up in Belgium where she gained a Licentiate in Journalism & Communication, which led to a career in radio and television in Brussels, London and Edinburgh.
She now lives with her husband and two children in Portugal and recently acquired a Master of Philosophy with the OU, deepening her passion for the study of the mind.
When she is not writing, Helene works as a freelance journalist and teaches Yoga.
For more information about the author and her upcoming books, please visit
Website: www.heleneleuschel.com
Twitter:
Facebook:
Goodreads: https://www.goodreads.com/author/show/15337013.H_A_Leuschel