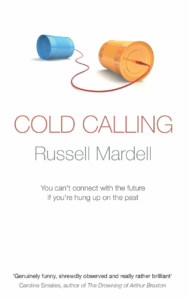 The Blurb
Still reeling from is break-up with the love of his life, insurance firm cold-caller Ray English has become a bit of a screw up.  Cynical and withdrawn, Ray is aimlessly drifting through life in London with his long suffering best friend, Danny.  However, once he is asked to reform his college band for a friend's wedding, Ray is soon forced to face up to his old life, and the hometown he had tried so hard to turn his back on.  Anya Belmont is a woman with a secret and a history that continues to shape her life.  A coffee shop owner in Salisbury, Anya is successful, yet bored; married, yet lonely.  She is also slowly being driven to distraction by her highly temperamental friend, the child-hating children's author, Eva Cunningham.  Through fate, coincidence or just bad timing, Ray and Anya's lives begin to change when Ray cold calls Anya and the two strike up a seemingly innocuous conversation.  Against their better judgement, their conversation is soon the start of a relationship played out over the phone.  But can there ever be anything real in a phone call? A sharp-witted, saccharine-free, thoroughly modern tale of lost loves and found friendships.
My Thoughts
Cold Calling by Russell Mardell is a sardonic observation of life, love and friendship with wry humour and moments of perfectly placed astuteness.
Ray is still getting over his ex-girlfriend five years after they split up. Seeing a counsellor, it is Anya, a woman he 'meets' over the telephone during a cold call he makes as part of his job in an insurance company who helps him achieve the closure he needs while Anya finds the courage to discuss a part of her life which she had kept to herself. A friendship is established between Ray and Anya despite them never meeting.
Cold Calling is quite unlike anything I have read before. It is told in first person narrative by four different people – Ray, Anya, Ray's friend and flatmate Danny and Anya's author friend Eva – with the main story line centring around the phone calls between the main characters. The characterisation is fantastic with each bringing their own unique voice and perspective to the story which serves to add a wider perspective and humour. Ray is a little bit of a screw up, his relationship with Katie was not long lasting and yet his life has been on hold for the five years since they split up. Anya has issues of her own she is dealing with and her friendship with Ray allows her the opportunity to find the courage to discuss her issues with her long standing friend, Eva. Eva is a successful author, but not in the genre she wants to write. Like a petulant, spoilt child she is infuriating and yet funny and Mardell's observations of the world of writing for a living made me laugh. The characters are likeable and not perfect which gives them an authenticity.
While in the main humorous, there are touching moments throughout the book. Ray's memories of his grandfather and the words of wisdom he gave to him before his death are told in a down to earth way and yet have a real depth and genuineness to them.
The nature of friendship plays a central role in this book. We accept and love our friends despite their flaws and foibles. They may drive us mad but we stick with them and support them.
A great light read – if you are after a book that is different, witty and gives accurate observations on life and love look no further that Russell Mardell's Cold Calling.
A huge thank you to Russell Mardell for the copy in exchange for my honest and unbiased review.
Published on 18 February 2016 by Troubador Publishing.