I am so pleased to be one of the hosts on the blog tour for The Mountain In My Shoe as this is a truly wonderful book and Louise Beech is an incredibly talented writer.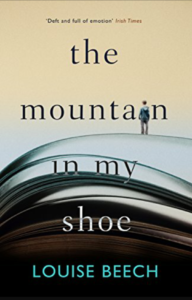 The Blurb
A missing boy, a missing book, a missing husband.  A woman who must find them all to find herself.
On the night Bernadette finally has the courage to tell her domineering husband that she's leaving, he doesn't come home.  Neither does Conor, the little boy she's befriended for the past five years.  Also missing is his lifebook, the only thing that holds the answers.  Bernadette must face her own past, her husband's secrets and a future she never dared in order to find them all.
Exquisitely written and deeply touching, The Mountain In My Shoe is both a gripping psychological thriller and a powerful and emotive examination of the meaning of family…and just how far we're willing to go for the people we love.
My Review
'I reckon family are like the sun and when they leave you get so cold your teeth chatter.'
Every now and again I read a novel for review and it is so utterly perfect and beautiful I literally find it difficult to write the review. The Mountain In My Shoe by Louise Beech is one of those books. I knew by the end of chapter seven that this would be a book that stayed with me for a very long time.
On the night that Bernadette decides to leave her domineering and abusive husband he goes missing. Conor, the child she has befriended through a voluntary organisation has also gone missing as has his life book. What follows is a story about family, loss, love and coincidences.
Louise has pitched the prose perfectly, it is exquisitely written and reflects the voices throughout the book incredibly well. Narrated in the first and third person and interspersed with extracts from Conor's life book the characters shine through and jump from the page. I found myself completely wrapped in the lives of Bernadette and Conor and really caring about the characters.
The Mountain In My Shoe has at it's core a mystery – what has happened to Conor and Richard – but it's heart is a story about one of the things that matters to us most as human beings…the family. How our family experiences shape the person we become, how that, expected to be safe and nurturing, unit can let us down but also that we should never give up hope. Louise has written with accuracy about the looked after children system within the UK and how it can fail and damage the most vulnerable children in society, despite the good intentions of those working within it. She has not, however, berated the front line staff caught up in this endless bureaucracy and often impossible constraints instead portraying them as the caring individuals they tend to be.
As I stated earlier this is also a story about coincidences and hope. It has an almost philosophical tone to it in places and is a book to be read slowly and pondered over. Add to this Louise's stunning prose and what you have in your hands when holding and reading this book is a real work of art.
The Mountain In My Shoe really spoke to me and at times made my heart ache. This is a book that resonated deep within my soul and moved me to the point I had to wait several days before I could put my thoughts about it to paper. It is poignant, profound and perfectly crafted…an absolute must read.
Thank you to Louise Beech and Karen Sullivan from Orenda Books for my copy.
Published 30 September 2016 by Orenda Books.
You can purchase The Mountain In My Shoe HERE.