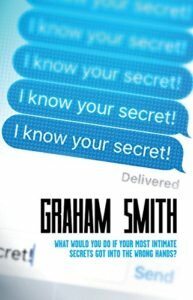 I'm thrilled to be hosting today's stop on the I Know Your Secret blog tour and sharing my review of this cracking crime thriller with you.
The Blurb
"What would you do if your most intimate secrets got into the wrong hands?"
Set in modern day Cumbria, I Know Your Secret is a police thriller in which a priest is found crucified to the stone floor of his church. Fearing more attacks on the clergy, DI John Campbell and his team of misfits race to find the killer before he strikes again.
Meanwhile, DI Harry Evans, spends his days attending the trial of his wife's rapist and his nights interfering in the investigation.
Can they catch the killer before he strikes again?

My Review
This is my second venture into Graham Smith's DI Harry Evans series after recently reading and reviewing his novella Matching The Evidence and I can tell you now it won't be my last. I Know Your Secret is a cracking crime novel and despite not having read Snatched From Home and reading them in the wrong order it works brilliantly as a stand alone novel.
I Know Your Secret kicks off immediately with a murder and from chapter one I was hooked. A priest has been brutally murdered and a number of people are being blackmailed by an unknown source who seems to know their deepest, darkest secrets. DI Harry Evans and his team have their work cut out trying to catch the killer while Harry is also attending the trial for his wife's rapist and coming to terms with his imminent retirement.
Graham really draws the reader into the heart of the police investigation and what I love is his realistic portrayal of the budget limitations and stretched resources. You are not only involved in the main story line but the other crimes that the short staffed team are also having to investigate.
The characters within the Major Crime Team are brilliantly executed and I felt I got to know each of them really well. Harry Evans, the renegade cop, is struggling with recent life events and upcoming retirement and although he isn't always the most lovable character and has some questionable behaviour, I empathised with him and really like his non-conformist ways. My heart went out to DI John Campbell, trying to fit in with a new team in which his predecessor is so highly regarded is not easy.
I really like a bad guy and love it even more when they are multi-layered and you are given an insight into the reasons and motivation behind their behaviour and Graham has done just this. Humans are complex and never black and white and in I Know Your Secret Graham has portrayed this brilliantly.
I Know Your Secret is perfectly plotted and well paced, I devoured this book in no time at all. Thinking at times I had it all worked out, Graham proved me wrong. He manages to pack so much into the book and seamlessly ensures it all makes sense and fits together at the end.
Looking for a great crime thriller that gets you right into the heart of the police investigation? Look no further than I Know Your Secret, you won't be disappointed!
Thanks to Graham Smith, Noelle Holten and Caffeine Nights Publishing for the advance copy and for inviting me onto the blog tour.
Published on 17 October 2016 by Caffeine Nights Publishing.

About Graham Smith
Graham Smith is married with a young son. A time served joiner he has built bridges, houses, dug drains and slated roofs to make ends meet. Since Christmas 2000 he has been manager of a busy hotel and wedding venue near Gretna Green, Scotland.
An avid fan of crime fiction since being given one of Enid Blyton's Famous Five books at the age of eight, he has also been a regular reviewer and interviewer for the well-respected website Crimesquad.com since 2009
He is the author of four books featuring DI harry Evans and the Cumbrian Major Crimes Team.
Connect with Graham Smith here –
Grab a copy of I Know Your Secret HERE