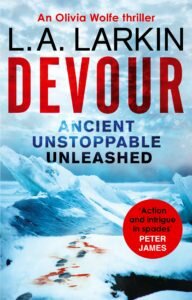 I'm absolutely delighted to be hosting a stop on the Devour by L A Larkin today and have a brilliant guest post by her about creating a series character. Without further ado, I will hand you over to L A Larkin…
Creating a series central character by L.A. Larkin
Thank you for asking me to write a guest post on how to create a series central character.
Devour is the first book in the new Olivia Wolfe thriller series. It's one thing to create an engaging central character for a one-off novel. It's a whole different ball game when that character is to keep readers interested across a number of books.
While thrillers and crime fiction are generally regarded as very plot-focused, it is the characters that readers fall in love with. Take, for example, Lee Child's Jack Reacher, Ian Rankin's Inspector Rebus, or Stieg Larsson's Lisbeth Salander. When I prepare to write my next thriller, I spend a lot of time on my central characters, regardless of whether they are in a one-off novel, or, in a series. I create a whole back story, their childhood, their family, their relationships. I know their strengths and weaknesses, their fears, their quirks. I know more about them than I am ever likely to reveal in a story. This means that because I know them so well I can predict how they will react and what they will say without having to think too hard about it. As a result, I can keep the pen moving. Or, in my case, fingers tapping at the keyboard.
When creating Olivia Wolfe, I had to think ahead. If the series keeps going for a long time, how old will she be? Will she still be able to perform the role I want her to? How will she develop and grow over the series? Creating a book series means holding back on character revelations and history. In Devour I choose not to reveal too much about her relationship with father-figure, Jerry Butcher, or much about her parents, or why she is driven to expose the corrupt and the criminal. Wolfe must battle her demons over a number of books.
I also wanted to ensure that Wolfe's skills allow me to keep creating exciting, high-stakes thrillers. For example, because I like to set my novels in different locations around the world, I needed it to be credible for Wolfe to travel with her job. So I made her an investigative journalist, who cut her teeth reporting from war zones. This experience has made her resilient and resourceful and, also, used to danger.
There is much, naturally, I cannot plan for in future books. I plot each book but I also believe it's important to let characters write their own stories: to watch them fall and pick themselves up again and head off in unexpected directions. It's a combined left and right brain dance: plot the chapter you are about to write and then give your characters the freedom to do something better.
I like my lead characters to learn something about themselves with each book, just as we do as we go through life. In Devour, Wolfe will lose everything she holds dear to stop a man who would use an Antarctic discovery to obliterate civilisation. But she will also discover something important about herself along the way.
The Blurb
Welcome to the high octane world of Olivia Wolfe.
As an investigative journalist, Wolfe lives her life in constant peril. Hunted by numerous enemies who are seldom what they first seem, she must unravel a complex web of lies to uncover an even more terrifying truth.
From the poppy palaces of Afghanistan and Antarctica's forbidding wind-swept ice sheets, to a top-secret military base in the Nevada desert, Wolfe's journey will ultimately lead her to a man who would obliterate civilisation. she must make an impossible choice: save a life  – or prevent the death of millions.
L.A. Larkin's thriller, Devour, is published by Constable at the end of January 2017. Peter James says Devour 'delivers action and intrigue in spades,' and Culturefly says, 'If you are only going to read one novel in 2017, I suggest you make it Devour.'
L.A. Larkin's website: http://www.lalarkin.com/
Sounds like a cracking read! A huge thank you to LA Larkin for a great guest post and to Leanne at Midas PR for inviting me to take part in the blog tour.