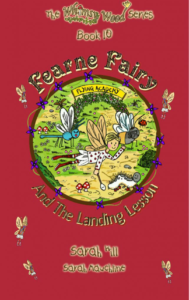 The Blurb
Will Fearne Fairy finally master the art of landing? Who will help her overcome her flying flaw? Find out in this 10th enchanting story from the award-winning Whimsy Wood Series.
My Thoughts
Fearne Fairy and the Landing Lesson is book 10 in The Whimsey Wood Series and sees the return of Fearne Fairy and Mustard the Magpie Moth Caterpillar. It is May in Whimsey Wood and Fearne finally takes the plunge and has some landing lessons. Fearne has not mastered the art of landing resulting in bumps, bruises and broken objects. While this is the 10th book, it works equally as well as a standalone.
Fearne is not the perfect fairy – her flying skills and singing voice leave a lot to be desired – and this makes her all the more likeable as, let's face it, none of us are perfect.
There is so much attention to detail in this book, with Sarah Hill beautifully creating the world around Fearne and her woodland friends. I loved the descriptions of the furniture within Fearne's house and her clothing. Young imaginations are sure to be fired by this gorgeous tale.
Hill's use of alliteration adds humour and children will have great fun saying these phrases aloud and parents will enjoying reading them out loud. A great way for kids to learn and remember words, Fearne Fairy and the Landing Lesson is both educational and a lot of fun.
The illustrations are gorgeous and fit with the story perfectly while providing much to look at and discuss.
A great book that both children and adults will enjoy. It's 'Bzz-illiant' as Bristle Bumblebee would say. Highly recommended.
A huge thank you to Sarah Hill for my copy in exchange for my honest review.
Published on 24 November 2016 by Abela Publishing.