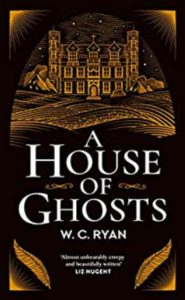 The Blurb
"A gripping mystery with a classic feel: And Then There Were None meets The Silent Companions"
Winter 1917. As the First World War enters its most brutal phase, back home in England, everyone is seeking answers to the darkness that has seeped into their lives.
At Blackwater Abbey, on an island off the Devon coast, Lord Highmount has arranged a spiritualist gathering to contact his two sons who were lost in the conflict. But as his guests begin to arrive, it gradually becomes clear that each has something they would rather keep hidden. Then, when a storm descends on the island, the guests will find themselves trapped. Soon one of their number will die.
For Blackwater Abbey is haunted in more ways than one . . .
An unrelentingly gripping mystery packed with twists and turns, A House of Ghosts is the perfect chilling read this winter.
My Thoughts
I absolutely adored The Constant Soldier by William Ryan and therefore couldn't wait to read A House of Ghosts. I had to treat myself to a hardback version of the book as it is gorgeous with a stunning cover, a map on the insert and beautiful illustrations at the head of each chapter. If you are going to treat yourself to a book that will look stunning on your bookshelf or coffee table it should be this one.
Anyway, it is the contents of the book that are important here and Ryan doesn't disappoint on that score either. Set in the winter of 1917, Kate Cartwright and her colleague Robert Donovan are sent by the War Office to investigate the guests at weekend of spiritualism Lord Highmount has arranged at his home, Blackwater Abbey. What follows is a book that defies genre. I have to admit that I was expecting one thing with A House of Ghosts and got something totally unexpected. Ryan has successfully combined ghosts, psychic powers, a murder mystery, espionage and the personal consequences of war in one beautifully told story.
I love Ryan's style of writing. His prose is beautiful and the way he phrases each sentence ensures that you are firmly placed within the novel's time and setting. You are literally in the winter of 1917 and the book is brimming with atmosphere. Blackwater Abbey has all the key ingredients of gothic ambience, isolation and spookiness. While the ghosts of the title are not an overriding feature of the book their presence adds an additional air of mystery and intrigue to the story.
For me, A House of Ghosts is a book about the ravages of war on the mind, guilt and grief. Ryan has created a complex tale that revolves around the horrors of war as he examines issues of shell-shock on returning soldiers and the sadness and desperation of those family members who have lost loved ones.
With its steady pace, this is a book that demands you read it steadily to soak up the ambience and each carefully placed word. I didn't rush through A House of Ghosts like I do other books as it begged to be savoured.
If you are looking for historical fiction that has a gothic touch and combines mystery and espionage, A House of Ghosts is the book for you.
Published on 4 October 2018 by Bonnier Zaffre, you get your copy HERE.