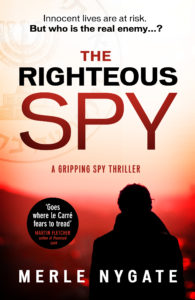 I am incredibly excited to be taking part in the first ever blog blitz for Verve Books today.  The Righteous Spy by Merle Nygate is their first publication and today I am hosting a quiz. You can submit answers in the comment boxes on the blog or look out on Twitter the next day for the answers!  
So, get your thinking caps on and flex your fingers to get answering and let's see if you 'Know Your Tradecraft'.
1. What is a deadletter drop?
A A letter impregnated with poison used in targeted assassinations
B A secure spot to leave clandestine messages
C The department at the Royal Mail where suspicious letters are opened
2. What is Five Eyes?
A A derogatory term for someone with poor vision
B Slang for a surveillance team
C Signals intelligence services from allied countries
3. What are Swallows and Ravens?
A Sequel to a Victorian adventure novel by Arthur Ransome
B Jargon used by undercover teams for allies and enemies
C Women and men who seduce and compromise targets for intelligence
4. What is a RAT?
A Code for someone from the feared superfamily Muroidea
B A device that can remotely control a mobile or laptop so the microphone can be switched on
C A member of a special unit that infiltrates enemy installations via subterranean tunnels
5. What are Cut Outs?
A Children's colouring books used to conceal secret messages
B A go-between used to stop direct contact between two spies
C A faked body double that's positioned in cars to trick CCTV cameras
Good luck. Remember you can check your answers on Twitter tomorrow @Verve_Books.
About The Righteous Spy
'Intriguing and atmospheric. Merle Nygate is a writer to watch.'
– Charles Cumming
WINNER OF THE 2017 LITTLE BROWN / UEA CRIME FICTION AWARD
Innocent lives are at risk. But who is the real enemy…?
Eli Amiram is Mossad's star spy runner and the man responsible for bringing unparalleled intelligence to the Israeli agency. Now, he's leading an audacious operation in the UK that feeds his ambition but threatens his conscience.
The British and the Americans have intel Mossad desperately need. To force MI6 and the CIA into sharing their priceless information, Eli and his maverick colleague Rafi undertake a risky mission to trick their allies: faking a terrorist plot on British soil.
But in the world of espionage, the game is treacherous, opaque and deadly…
A twisting international spy thriller, A Righteous Spy is a shocking page turner that portrays a clandestine world in which moral transgressions serve higher causes. A must-read for fans of Homeland, Fauda, The Americans and NCIS, it will also appeal to readers of Daniel Silva and John le Carré.
Sounds great, right? Published on 18 October by Verve Books you can get your copy HERE.
About Merle Nygate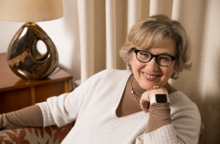 Merle Nygate is a screenwriter, script editor, screenwriting lecturer and novelist; she's worked on BAFTA winning TV, New York Festival audio drama and written original sitcoms; previously she worked for BBC Comedy Commissioning as well as writing and script editing across multiple genres. Most recently, Merle completed her first espionage novel which won the Little Brown/UEA Crime Fiction Award. It was described by the judge as 'outstanding'.

http://www.merlenygate.com/