Today I am taking part in my last ever blog blitz/tour and I am delighted that my final one is for Tom Bale and his latest book One Dark Night. Regular readers of Bloomin' Brilliant Books will know that I'm a huge fan of Tom Bale's and so I'm very excited to be sharing my thoughts on his latest book which is out today.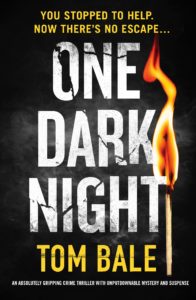 The Blurb
He sees his wife's eyes watching him in the rear-view mirror, the kids up on their knees to get a better look. That's when he hears the scream…
You're driving home from a family outing one afternoon, when a speeding car cuts you up, nearly causing you to crash. Like anyone would, you pull over to confront the driver.
But a glance into the backseat of the speeding car reveals a woman fighting to escape. She is terrified and she's screaming for your help: these men have murdered her husband…
What would you do?
An addictive thriller with plenty of twists – fans of Harlan Coben, James Patterson and Robert Dugoni will be completely hooked.
My Thoughts
It's no secret that I love a Tom Bale book and I always eagerly anticipate his latest novel. I was therefore delighted to be able to read an advance copy of his latest book One Dark Night.
When Adam and Katy Parr's car is damaged by a speeding motorist on their way home from a family day out with the children, Adam's temper gets the better of him and he chases after and confronts the motorist. He soon regrets his actions as he had his family end up being kidnapped by a criminal gang.
Bale once again puts his characters through the mill by placing them in an extreme – and not in a pleasant way – situation. What I love about Bale's books is that they are pure escapism. The whole intention of One Dark Night, in my opinion, is to take the reader on a full-throttle ride and this is one hundred per cent achieved. Bale's writing and the perfectly paced chapters ensure that the reader is kept hooked from the outset.
I was completely behind the characters of Adam, Katy and their children Freya and Dylan. Because of their ordinariness you can relate to them and it makes the situation they find themselves in all the more scary. Bale also ensures however, that there is a depth to his antagonists as well which makes One Dark Night well-rounded.
Bale firmly places One Dark Night in the present by including current social and political issues within the storyline making it current and relevant. I enjoyed some of his wry observations on society and the media.
One Dark Night is another fast-paced thriller from Bale full of the thrills and spills you would expect from this author. If you are looking for pure adrenalin-filled enjoyment, check One Dark Night out.
One Dark Night is published on 23 October 2018 by Bookouture.
Buy Links:
Amazon: http://geni.us/ODNCover
iBookstore: https://tinyurl.com/y8lt6a89
Kobo: https://tinyurl.com/y82k6jnt
Googleplay: https://tinyurl.com/yautyxz3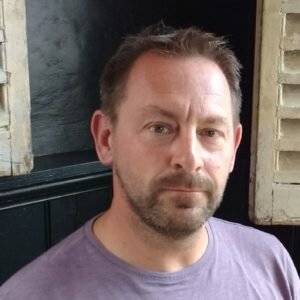 About the Author
Tom Bale is the author of nine books, including the bestsellers See How They Run and All Fall Down. His latest book, One Dark Night, is out October 23rd 2018.
Social Media Links
Twitter:
Facebook:
Website: http://www.tombale.net/
A huge thank you to Tom Bale, Bookouture and NetGalley for the advance copy of One Dark Night and for inviting me to take part in the blog blitz.