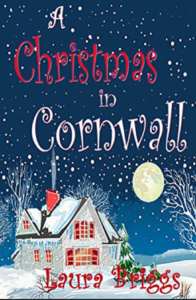 The Blurb
It's Julianne Morgen's first Christmas in the Cornish village of Ceffylgwyn, and life seems perfect.  Her job as an event planner couldn't be better, she's beginning to feel at home despite being an American in a tiny English village, and her relationship with handsome English horticulturist Matthew Rose continues to slowly blossom from friendship to love.
But when an old flame of Julianne's appears on the spot, she finds herself tangled up in her own past.  A grand charitable ball planned at Cliffs House for Christmas brings it's own challenges to Julianne's world, along with a last-minute wedding in London.  And when she learns that Matthew's former career in America has invited him back, she worries about what it means for their future together if he says 'yes'.
Number of pages – 95.
My Thoughts
I really enjoyed A Wedding In Cornwall and so looked forward to catching up with Julianne, Matt and all the staff at Cliffs house in this second instalment of Laura's series.
Julianne has settled into her life in Cornwall and her fledgling relationship with Matt is going well. However, the course of true love does not always run smoothly and it appears that fate may be conspiring against the couple.
A Christmas In Cornwall is very much a classic love story with an added gorgeous setting and a sprinkling of Christmas sparkle. The characters are great and you can't help but like Julianne, Matt and the rest of the staff at Cliffs House. I got completely absorbed in Julianne's life and it felt like spending time with an old friend. Unsure of the status of their fledgling relationship, I found myself rooting for Julianne and Matt and hoping their relationship would work out.
Once again, Laura has done a great job of describing Cornwall and the village creating a really warm feel throughout the novella. It still amazes me that Laura has never actually been to Cornwall and she must have undertaken a lot of research.
A lovely festive novella. Great if you want to while away a winter's afternoon with a light-hearted read.
Thank you to Laura Briggs for my copy in exchange for my unbiased review.
You can purchase a copy HERE.