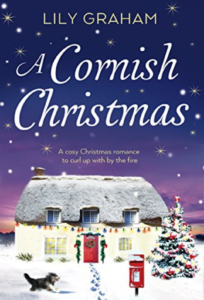 The Blurb
Nestled in the Cornish village of Cloudsea, sits Sea Cottage – the perfect place for some Christmas magic…
At last Ivy is looking forward to Christmas.  She and her husband Stuart have moved to their perfect little cottage by the sea – a haven alongside the rugged cliffs that look out onto the Atlantic Ocean.  She's pregnant with their much longed for first baby and for the first time, since the death of her beloved mother, Ivy feels like things are going to be alright.
But there is trouble ahead.  It soon emerges that Stuart has been keeping secrets from Ivy, and suddenly she misses her mum more than ever.  When Ivy stumbles across a letter from her mother in an old writing desk, secrets from the past come hurtling into the present.  But could her mother's words help Ivy in her time of need?  Ivy is about to discover that the future is full of unexpected surprises and Christmas at Sea Cottage promises to be one to remember.
This Christmas warm your heart and escape to the Cornish coast for an uplifting story of love, secrets and new beginnings that you will remember for many Christmases to come.
My Review
A Cornish Christmas was so much more than I was expecting! It is a story about the love between a mother and daughter and hope. It is a moving tale that reduced me to tears.
Ivy lost her mother five years ago and when she puts her mother's old writing desk in her cottage she finds a mysterious postcard within the desk that is addressed to her by her mother but is not completed. That is all I want to say as I do not want to spoil the story for those who have not read it. It was originally called The Postcard and I do think this was a more apt title. The title and the blurb did not prepare me for the beauty that is inside this book, but that is also a good thing.
The characters are wonderful. I adored Ivy and her husband Stuart, who are expecting their first child after failed IVF attempts and miscarriages, and love the relationship between them that Lily has portrayed. She has really brought the village community to life with fantastic characters that you cannot help but like. It draws you in to the book completely and I had to keep reading as I cared so deeply for all the characters.
This book has a depth to it that took me by surprise. It is incredibly moving, touching and for me is a story about hope and enduring bonds. Ivy has struggled with the grief of losing her mother but the postcard she finds brings a new sense of well-being and gives her what she needs to move on with her life with Stuart and their baby. It is very emotional and Lily has written A Cornish Christmas with empathy and gentleness.
It has a magical element that even got to me and that is a testament to Lily's writing as I am pretty cynical! I really don't want to talk to much about the book as I want new readers to be as surprised and delighted as I was by this beautiful book.
Utterly gorgeous, poignant and beautifully written I adored A Cornish Christmas and have fallen a little in love with this book. Make sure you read this book but have a box of tissues handy!
Thank you to Lily Graham, Bookouture and Netgalley for the copy in exchange for my honest review.
Published 30 September 2016 by Bookouture.