I'm delighted today to be joined by Susan Gandar, author of the stunning We've Come To Take You Home.  She is telling us all about the books and authors who have had an influence on her.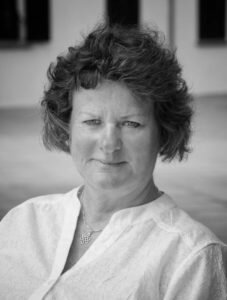 Which authors/books did you like to read as a child?
I was the oldest in my class and the last to learn to read. Rather than helping me, giving me extra tuition, my battle axe of a teacher banished me from her class. I spent hour after miserable hour trembling out in the corridor while my fellow classmates conquered Jack and his cat. So, it wasn't that surprising that for me, as a child, reading wasn't a pleasurable experience. In fact it was something to be avoided. But, then, and I think it must have been in my early teens, and I can't remember any particular book, things changed. And, now, as anyone who knows me will tell you, I'm at my very happiest when head down in a book.
But to answer your question! My earliest memories of reading are Hans Christian Anderson fairy tales. I suspect it was more about the pictures because the book I remember was illustrated. I adored 'The Chronicles of Narnia' and was heartbroken when I reached the end. And then, in no particular order, 'Ballet Shoes', 'The Little Princess', 'The Sword in the Stone', 'The Secret Garden', 'Paddington', 'Moonfleet', 'The Railway Children' and endless Enid Blytons.
A rather conservative and somewhat worthy collection compared to the exciting range of contemporary fiction which is now available to children and young adults.
Were you good at English at school? Did you like it?
Yes, once I went to senior school, where I had some really excellent teachers, I fell in love with English, particularly English language. I have a memory of reading George Eliot's 'Mill on the Floss' in class. Homework was to write an additional chapter for the book. I wrote it, no problem, really enjoyed the experience; the voices inside my head were clear and true. The words flowed easily. A week later my chapter was read out in class. And so it continued. I regret though that, both at home and at school, I was never ever encouraged to continue as a writer. Nobody told me of Malcolm Bradbury's excellent Creative Writing Course which had just started at UEA. If only I had known.
What genres do you like to read? Have they had an impact on the genre you write?
The novels which I find most satisfying are usually those that are a mix of different genres. Which are the ones that publishers and bookshops often avoid as they fail to fit, neatly, onto any particular book shelf. But I do definitely lean towards historical fiction, literary rather than popular, which is also what I'm writing – at least at the moment.
If you were to write a different genre what would it be and why?
I'm happiest when writing a strong storyline so maybe it would be crime? Although I have to admit it's not a genre I would read out of choice. I admired Anne Buist's 'Medea's Curse'. It's deeply rooted in contemporary reality and leaves you guessing until the very last page. Michael Russell is another crime writer I admire. 'The City in Darkness', his third Stefan Gillespie novel, is due out October this year. Michael's style is far more literary than Anne's and his storylines are set just prior to the Second World War. If I could write something which had a little of both, a bit of Anne and a bit of Michael, that would be great. But I don't see it happening – at least not right now! And then there's Rom Com. I'd love to have a go but the prospect of coming up with an idea as original and as intelligent, and as hilarious, say, as Graeme Simsion's 'The Rosie Project' is, to say the least, somewhat daunting.
Did any author's work encourage you to pick up your pen and write and if so who, what and why?
I have read hundreds, possibly even thousands, of books, fiction and non-fiction. And pretty much each and every one must have influenced me in some way – whether as a writer or as a person. But I particularly remember David Almond and most particularly 'Skellig'. I love David Almond's very sparse but poetic style combined with that huge imagination. And all his books have such a wonderful sense of place.
And then there's Meg Rossoff. I'd never read any YA until I picked 'Where I Live Now' off an adult fiction shelf in a High Street bookshop. It introduced me to a style of writing, open, honest and actually quite brutal, even upsetting, I'd never come across before.
And Susan Hill. Her First World War novel – 'Strange Meeting' – is a particular favourite. If you had to read one novel about that particular time, that particular war, then that would be the one I would recommend. Along with Sebastian Barry's 'A Long, Long Way.'
But it was Marghanita Laski's 'The Victorian Chaise-Longue', a book given to me many, many years ago by my mother, which really helped when I was writing the slips, from one life to another, in 'We've Come to Take You Home'. The blurb on the back of my Penguin 1962 edition says, 'In this short, eerie novel … a young mother who is recovering from tuberculosis falls asleep on a Victorian chaise-longue and is ushered into a waking nightmare of death amongst strangers.'
Are there any authors who, as soon as they publish a new book, you have to get it?
Anne Tyler, Susan Hill, Ian McEwan, Rose Tremain, A.S. Byatt, Rachel Joyce, Sebastian Faulks, Sebastian Barry, Kate Atkinson, Salley Vickers, there are so many authors it's impossible to list them all.
Which books have you read that have made you think 'Wow, I wish I had written that' and what was it about the book?
Anthony Doerr's 'All the Light We Cannot See', a hauntingly beautiful page turner, set in France and Germany during the Second World War, which manages to be epic in narrative scale but, at the same time, emotionally focused and deeply intimate. I just loved and admired everything about it, enough to really want to give it a second read.
Have any of your plots/characters been influenced by real life events/people? (Be careful, I don't want you getting sued!)
It was while I was working as Script Consultant on 'Casualty' that we decided to focus an episode on organ donation, specifically looking at it from the donor and the donor's family point of view. Plus the experiences of the doctors and nurses trying to get a family to agree to donation. Sam Snape researched and wrote the script – 'Living Memories'.
Less than six months later, I found myself sitting beside my unconscious mother, in the back of an ambulance, blue lights flashing, siren blaring, as it weaved its way through the traffic towards the nearest hospital. When the ambulance screamed to a halt, the back doors opened and I found myself staring into the faces of the A & E department's crash team, what had been TV fiction became a living reality.
Two hours later, my mother was admitted to the hospital's intensive care unit with a suspected brain haemorrhage. One hour later the diagnosis was confirmed. This is pretty much what Sam goes through in 'We've Come to Take You Home' only the parent is her father rather than her mother. A nurse in the intensive care unit asked me to take my mother's hand. I couldn't. The same happens to Sam. But, unlike me, Sam is given a second chance.
About Susan Gandar
My father, John Box, was a film production designer, working on 'Lawrence of Arabia', 'Dr. Zhivago', 'The Great Gatsby', 'A Man For All Seasons' and the musical 'Oliver'. (Click here for more on John ) Our house was always filled with people, usually eccentric, always talented, invariably stroppy, discussing stories. My mother put my father's four Oscars to good use as toilet roll holders, doorstops and hat stands.
A major chunk of my childhood was spent loitering around on film sets. Who needs an 'English education' when you have the polystyrene-coated streets of downtown Moscow, ten miles outside of Madrid, to explore?
But then the years of 'Who Will Buy My Sweet Red Roses' came to a rather abrupt end. Reality knocked on the door in the guise of the Metropolitan Line to Shepherds Bush and the BBC. Working in television as a script editor and story consultant, I was part of the creative team responsible for setting up 'Casualty'. I became known for going after the more 'difficult' stories at the same time successfully racking up viewing figures from 7 to 14 million.
I went on to develop various projects for both the BBC and the independent sector. The period I enjoyed most was working with Jack Rosenthal, a wonderful writer, on the series 'Moving Story' – 'That's a situation, a good situation, but now you need to make it into a story.'
Martin, my husband, was made an offer he couldn't refuse and we left England to live in Amsterdam. 'Ik wil een kilo kabeljauw, alstublieft' will, if all goes well, buy you a piece of cod – I decided to concentrate on my writing rather than my Dutch pronunciation.
Links
Twitter @Susan_Gandar
We've Come To Take You Home is out now!
You can read my review here!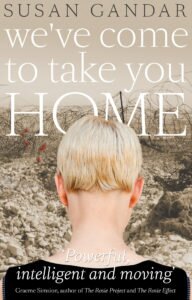 A huge thank you to Susan for taking part!