Oh my God Hull Noir is now only two sleeps away and I'm so excited I'm unbearable to live with! William Ryan is one of the authors I am particularly looking forward to hearing speak. Ryan is taking part in the Behind Bars: Freedom, Oppression and Control talk on Sunday 19th November alongside Eva Dolan, Kati Hiekkapelto and Stav Sherez. For all Hull Noir information and tickets access their site HERE. 
In this countdown I am sharing with you my thoughts on William Ryan's novel The Constant Soldier.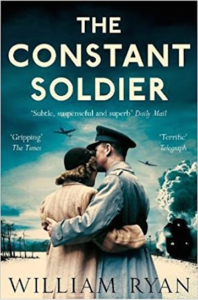 The Blurb
1944. Paul Brandt, a soldier in the German army, returns wounded and ashamed from the bloody chaos of the Eastern front to find his village home much changed and existing in the dark shadow of an SS rest hut – a luxurious retreat for those who manage the concentration camps, run with the help of a small group of female prisoners who – against all odds – have so far survived the war.
When, by chance, Brandt glimpses one of these prisoners, he realizes that he must find a way to access the hut. For inside is the woman to whom his fate has been tied since their arrest five years before, and now he must do all he can to protect her.
But as the Russian offensive moves ever closer, the days of this rest hut and its SS inhabitants are numbered. And while hope – for Brandt and the female prisoners – grows tantalizingly close, the danger too is now greater than ever.
And, in a forest to the east, a young female Soviet tank driver awaits her orders to advance . . .
My Thoughts
I really enjoy historical fiction and I'm determined to read more in this genre. I've had The Constant Soldier on my TBR pile for a while after hearing wonderful things about it from other bloggers.
Set in 1944, The Constant Soldier follows Paul Brandt as he returns to his village after being badly injured fighting for the German army on the eastern front. Brandt's village has changed, people are missing and the village is home to a retreat for SS officers and is complete with female prisoners. One of these prisoners is the woman Brandt was arrested with five years earlier and he feels compelled to ensure her safety. It becomes clear fairly quickly that Brandt is not a Nazi sympathiser and his involvement in fighting on their behalf was not a choice but a lesser of two evils.
The Constant Soldier is not just a book about a moment in history – as interesting as that is – but is a book about the human condition, the fight for survival and atonement. Brandt has a strong sense of conscience and he wants to make up for the atrocities he committed as a soldier despite him having no choice in the matter.
I went into this book expecting to loathe all of those who had chosen to take up roles as SS officers. However, while Ryan shows that there were those who relished the SS officer role, the power and the acts they are allowed to commit, he also portrays the other side and I found myself sympathising with those SS officers who saw it as a means to survive.
Ryan clearly shows that there were those involved in the implementation of the holocaust who were affected by the acts they had to commit. Survival is the initial motivation behind those in The Constant Soldier who engage in the Nazi's acts but their survival ends up costing them dearly and in ways they couldn't initially imagine. The Constant Soldier made me wonder how many of those who played a direct part went on develop post traumatic stress disorder and other mental health difficulties. I remember being taught in A level history that while those in Stalinist Russia complied due to fear, those in Nazi Germany complied as they believed in what Hitler was doing. Ryan reminds us that, when it comes to humans, things are never that black and white.
I adored Ryan's style of writing. Each chapter is short yet perfect in their brevity. He has a way of ending each chapter, often with a singular sentence, that has a huge impact on you. The prose draws you in to the story wholeheartedly and places you firmly within The Constant Soldier's time and place. This book has you feeling incredibly tense with moments when you barely dare breath in case it somehow changes the outcome for Brandt and the female prisoners.
The Constant Soldier is a powerful, emotive book that is wonderfully written. Perfect for those readers that enjoy historical fiction, particularly those set during World War 2. Highly recommended.