Happy hump day, bookish folk! It's Author Influences time and I'm delighted to be joined by thriller author Sharon Dempsey today. So, without further ado, I will hand you over to Sharon to tell you about the books and authors she loves.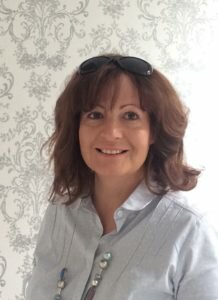 Which authors/books did you like to read as a child?
I loved Enid Blyton. Her books were pure escapism for me and I'm sure they laid the ground work for my love of mysteries and crime fiction.
Were you good at English at school? Did you like it?
Yes, like many writers, I was good at English and I loved it. The books we studied in junior years, To Kill a Mockingbird and Call my Brother Back had a huge influence on me. I achieved A grades in my English GCSEs, Literature and Language and studied English as part of my degree at Queen's University.
What genres do you like to read? Have they had an impact on the genre you write?
I read a lot of crime, across the sub-genres: police procedurals, mysteries, thrillers but I also enjoy dystopian and speculative fiction, historical fiction and literary fiction. Everything I read as an impact on my writing. It is one of my greatest pleasures to read good book and feel inspired.
If you were to write a different genre what would it be and why?
Ooh maybe young adult because I love the sense of discovering the world through fresh eyes; a good YA book can make me laugh and cry and remind me of being at that stage in life when everything feels so intense. I also love a bit of gothic horror so I can definitely see me exploring a story within the gothic genre.
Did any author's work encourage you to pick up your pen and write and if so who, what and why?
I suppose Stuart Neville's crime novels had an impact on me in that sense. He was writing about Belfast without the tired old cliches and his work encouraged me to see that the stories I wanted to write could have a readership and that Belfast is a place worth exploring.
Are there any authors who, as soon as they publish a new book, you have to get it?
Two Southern Irish crime writers –Tana French and Louise Phillips. But there are lots of authors who I'm always desperate to read.
Which books have you read that have made you think 'Wow, I wish I had written that' and what was it about the book?
Faithful Place by Tana French, felt so real to me. I like books that make me feel uneasy and The Roanoke Girls achieved that in spades.
Have any of your plots/characters been influenced by real life events/people? (Be careful, I don't want you getting sued!)
Yes, my novel Little Bird, opens with a murder at wedding. The idea came to me while I was leaving my cousin's wedding party. It was a gorgeous balmy night and I could hear the music and chatter within the hotel as I was leaving. It was in a beautiful semi-rural setting and I just thought, mmm what a great place to have a murder!
Sharon's debut crime novel, Little Bird, was published on 26 July 2017 by Bloodhound Books. Here's what it's about: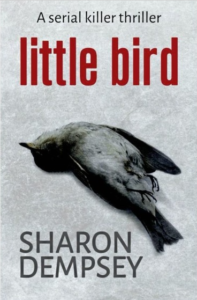 Forensic psychologist, Declan Wells, is dealing with the aftermath of a car bomb during the Troubles in Belfast, which has left him in a wheelchair. But that is only the start of his problems.
Welsh Detective, Anna Cole is running away from a dead-end relationship and the guilt of her mother's death. She hopes secondment to the Police Service of Northern Ireland will provide a distraction.
There is a killer on the streets targeting young women and leaving behind macabre mementoes to taunt the police.
Can Declan and Anna work together to catch the deranged killer before he strikes again?
And is it ever possible to leave the past behind you?
About Sharon
Sharon Dempsey's debut crime novel Little Bird was published by Bloodhound Books on July 26th. She writes fiction and non-fiction books and teaches creative writing. Sharon has lived in London and Cardiff but has now settled in her native city of Belfast with her family and a tailless cat called Scruffy.
Twitter: 
Website: https://1stchapterdempsey.wordpress.com
A huge thank you, Sharon, for taking part.