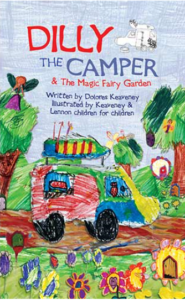 The Blurb
When Grandad John gets a broken down camper from his friend Digger, he doesn't realise the magic that lies within it. Only his grandchildren know.
An adventure to find the Eternal Eye quartz crystal which has been stolen by the fierce Nogard from the Magic Fairy Garden promises a meeting with magic fairies, amazing animals, and much more…
This book is written by Dolores Keaveney and her grandchildren who contributed with names and descriptions of all the animals and fairies, some of the happenings, and the song. It is fully illustrated throughout by her grandchildren.
My Thoughts
This lovely little book is the work of Dolores Keaveney and her grandchildren. While Keaveney outlined the plot, her grandchildren provided the magic by coming up with the magical creatures and by helping out to illustrate the book.
Dilly the Camper & The Magic Fairy Garden is the tale of a neglected campervan that is brought back to life by John. His grandchildren help in the vans restoration and soon discover that there is more to Dilly than meets the eye. They encounter a fairy who need their help to find the stolen Eternal Eye quartz from the Magic Fairy Garden.
Aimed at 4 to 9 year olds, it is a great book to read with a child and for the older child to learn to read from.
Full of the wonder of magic with fairies, magical creatures and wishes and wonderfully vibrant illustrations, Dilly the Camper is sure to delight most children, male or female. Like all good fairy stories, it has its share of scary moments which will give children a thrill while not being too frightening. The premise of good triumphing over bad, cooperation and friendship are timeless themes within the book that children always enjoy.
I adored the fact that this has been written in conjunction with the author's own grandchildren and the pictures throughout the book were drawn by her grandchildren. This gives the book that 'special' feel and will, I think, make it even more relatable to children and fire off young imaginations.
A delightful, colourful read for children that provides thrills along the way.
Published on 9 July 2017 by DBee Press. You can grab a copy HERE.
A huge thank you to Dolores Keaveney for my copy in exchange for my honest and unbiased review.