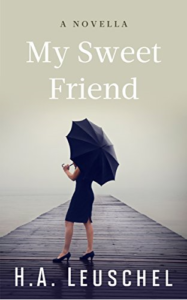 The Blurb
A stand-alone novella from the author of Manipulated Lives
A perfect friend … or a perfect impostor?
Alexa is an energetic and charismatic professional and the new member of a Parisian PR company where she quickly befriends her colleagues Rosie and Jack. She brings a much-needed breath of fresh air into the office and ambitiously throws herself into her new job and friendships.
But is Alexa all she claims to be?
As her life intertwines with Rosie and Jack's, they must all decide what separates truth from fiction. Will the stories that unfold unite or divide them? Can first impressions ever be trusted?
n this original novella, H.A. Leuschel evokes the powerful hold of appearances and what a person is prepared to do to keep up the facade. If you like thought-provoking and compelling reads with intriguing characters, My Sweet Friend is for you.
My Thoughts
I looked forward to reading Leuschel's follow up to her collection of short stories, Manipulated Lives, to see where she would take us next. My Sweet Friend is a novella which, again, has the theme of manipulation at its heart.
I'm guessing that the majority of us have, at some point, had one of those toxic friends. You know the kind – the friend who has to go one better than you, is jealous of you and yet you fail to see it to begin with. My Sweet Friend is about one of those friendships and centres around Alexa and Rosie. Leuschel tells the story via the points of view of the two main characters, so it alternates between Alexa and Rosie. After meeting at work, Alexa and Rosie quickly become firm friends, spending a lot of time together. But is Alexa the person she leads people to think she is?
Leuschel has managed to pack a lot into a short book and My Sweet Friend, while a quick read, still manages to provide enough background to ensure the reader gets the full picture. As Rosie reflects on her friendship with the enigmatic Alexa, we see how their friendship develops and how she arrives at the point in which she begins to doubt her friend. From Alexa's point of view, we see her absolute belief in herself and her actions, not doubting for one minute that she could be in the wrong. This creates a kind of claustrophobic effect as we wonder how and if Rosie will be able to extract herself from the friendship without too much in the way of consequences and damage.
My Sweet Friend again demonstrates Leuschel's interest and knowledge of the human psyche and behaviour. This adds an element to Leuschel's work that is guaranteed to get you thinking and mulling over what you have read. She accurately portrays the way we judge people from the moment we set eyes on them despite our best intentions not to and the way in which certain people cultivate an image in order to manipulate and ensure they get what they want. In a world in which people can present themselves as whatever they want on online, it was nice to see this explored in 'real' life without anyone resorting to hiding behind a computer screen.
My Sweet Friend is a great exploration of damaging relationships and the lengths that some people will go to in order to get what they want. I really hope that Leuschel follows up My Sweet Friend with a full-length novel as I believe she has the insight and talent to write a dark and disturbing book. My Sweet Friend is a great read for anyone who is intrigued by the less salubrious side of human nature.
Published on 6 December 2017 by Helen Leuschel Publishing. Want a copy? Grab one HERE.
My thanks go to H A Leuschel for the copy in exchange for my honest and unbiased review.
Want to know more? Check out my review of Manipulated Lives HERE and read about H A Leuschel's Author Influences HERE.