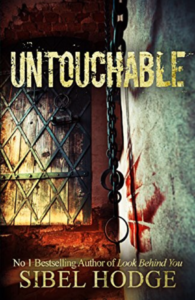 The Blurb
A conspiracy.  A cover up.  And a whistle-blower who knows too much.  You think you know who to trust? You're wrong.  And the truth may kill you…Untouchable is a chillingly dark psychological thriller from the no.1 bestselling author of Look Behind You.
-Inspired by real UK police investigations, this book contains scenes which some readers may find disturbing –
It's Maya and Jamie's anniversary, and she waits with excitement for him to return home for a celebratory dinner.  There's a knock at the door.  It's the police.  Jamie has been found hanging in a local wood.
His death is ruled a suicide, but Maya doesn't believe Jamie would take his own life.  Something isn't right.  Someone has broken into her house.  Someone is watching her.  And someone has gone to great lengths to cover up what Jamie was doing before he died.
Maya's grief turns to suspicion, and as she begins to investigate the weeks leading up to Jamie's death, her trail leads her to a place known as "The Big House" and the horrific secrets within.  Secrets people will stop at nothing to keep hidden.  People linked to the heart of the Establishment who think they're Untouchable.
Now Maya has a dangerous decision to make.  How far is she prepared to go to reveal the truth?
My Review
 'It's what the Establishment – the System – has become. It's not there for the people's need, rather to serve the elite.'
It has taken me a few days to be able to write this review as I needed some time to consider Untouchable and process what I had read and how it made me feel. This is, for me, always the sign of a great book. Untouchable is part fast-paced psychological thriller and part political and social commentary.
It all starts when Jamie does not return home after work on the evening of his and partner Maya's anniversary. When the police arrive and inform Maya that Jamie's body has been found and he has committed suicide, Maya knows that this can't be true. What follows is her uncovering of the disturbing truth and been drawn into a world she never imagined existed that will totally shatter all her beliefs about the society we live in.
Told in first person narrative, in the first part by Maya and Jamie, the second part by Maya and the third part by Mitchell, you get totally drawn into the characters, their thoughts and feelings. The first part is interesting as Jamie is deceased and his narrated chapters take us back to the past, it is kind of like we are being spoken to from beyond the grave, however, in part two it all becomes clear.
Maya is dealing with her grief and her frustration that nobody believes that something has happened to Jamie as she knows he would not have taken his own life. Sibel writes with acute understanding of how grief affects you and you cannot fail to be moved by Maya's emotions –
'Everything seemed impossible – breathing, walking, standing – and yet somehow I put one foot in front of the other, even though my world crumbled a little more with each step.'
I got completely wrapped up in Maya's journey and all that she was going through. Maya is stuck in a situation in which she is grappling with so much more than just grief, her very life is at risk, and there is very little that can help her. I got incredibly emotionally involved with Maya and desperately wanted a positive outcome for her, I felt all of her frustration about not being believed and her need for vengeance.
Jamie's story is difficult to read, heart-breaking, moving, disturbing and sadly a reality for many children. Sibel has clearly researched the subject that effects him meticulously and she writes with an understanding and empathy which this issue needs.
As I stated earlier, this is also a political commentary and highlights how if you have enough money and power you can get away with literally anything. Those in power are able to use their position to abuse and use the vulnerable members of society and institutions will close ranks in order to protect themselves amongst a justice system that is essentially flawed. Untouchable, for me, is a kind of modern day 1984. Although a work of fiction, Sibel has written about issues that for many are a reality.
Untouchable kept me gripped throughout with twists and turns, likeable characters and an incredibly moving storyline. It is written with intelligence and empathy and highlights the sad realities of the society we live in. It is disturbing, not easy to read at times and will shake you to your core, but, in my opinion the story line is an important one to get out there.
A huge thank you to Sibel Hodge for the copy in exchange for my honest opinion.
Published on ebook on 18 July 2016 by Wonder Women Publishing Limited.
Published in paperback on 17 September 2016 by CreateSpace.