This review originally went out on Craig Sisterson's Crime Watch blog in June to coincide with the eBook publication. Today is the paperback publication of Overkill by Vanda Symon and I couldn't resist taking the opportunity to share my review of this bloomin' brilliant book again.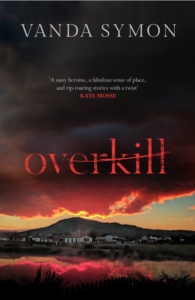 The Blurb
When the body of a young mother is found washed up on the banks of the Mataura River, a small rural community is rocked by her tragic suicide. But all is not what it seems.
Sam Shephard, sole-charge police constable in Mataura, soon discovers the death was no suicide and has to face the realisation that there is a killer in town. To complicate the situation, the murdered woman was the wife of her former lover. When Sam finds herself on the list of suspects and suspended from duty, she must cast aside her personal feelings and take matters into her own hands.
To find the murderer … and clear her name.
A taut, atmospheric and page-turning thriller, Overkill marks the start of an unputdownable and unforgettable series from one of New Zealand's finest crime writers.
My Thoughts
Before I rave about the contents of Vanda Symon's Overkill I want to quickly mention the cover. I'm ashamed to admit that I often judge a book by its cover and Orenda are well known for their stunning book jackets. However, with Overkill they have really outdone themselves. I could look at it for hours it is just so stunning! I would happily have this on my wall. But I'm here to discuss the inside of the book, not the outside.
Without doubt Overkill will be on my final 'books of the year' list as it ticks so many crime fiction boxes and it is wonderfully written. Overkill is the first in Symon's PC Sam Shephard series and I am already eagerly anticipating the next book. Set in a rural community in New Zealand, the town is shocked when a young mother is found dead. It quickly becomes apparent to Matuara's only police constable, Sam, that this is not the suicide it originally appeared to be. Sam is soon suspended from her job when she is viewed as the prime suspect in the woman's murder due to the victim being the wife of her former partner. Sam sets out to clear her name and find the killer on her own.
The beginning of Overkill literally  left me breathless. It is startling and I haven't had the reaction that I had to the start of Overkill for a long time. Brutally beautiful, Symon gets right to the emotional core of absolute fear and the writing is uncomfortably outstanding. It's clichéd to say, but I was immediately hooked.
Overkill continues to deliver on all fronts as the book progresses. Police Inspector Sam Shephard is a fantastic character and Symon has ensured that readers will want to meet her again in further books. While Overkill is a great example of crime fiction, the sense of humour displayed by Sam adds an additional appeal. Sam's humour is sarcastic, dry and she is the kind of woman you want to go to the pub with. She is incredibly human and it was her honesty about her feelings along with her humour that really made me warm to her. I have no doubt that everyone who reads this book will love Sam. Symon's characterisation is second to none.
The plot is perfectly paced with twists and turns that constantly keep you on the back foot. Prepare to be constantly second guessing and looking at everyone with suspicion. The small community setting aids this perfectly with a cast of characters who all potentially have something to hide. Secrets and lies abound as Sam tries to get to the bottom of the murder. Overkill is a real page turner with shocks and surprises throughout.
The sense of place is created well and the reader is completely transported to New Zealand. The setting shines through via Symon's prose and it also ensures that the crime is unique in the reasons behind it, making it totally original.
With a twisty plot, a protagonist who shines and beautifully written observations of the cruellest things, Overkill is crime fiction at its best and this is an outstanding book. I predict that this  book is going to soar here in the UK and it deserves to. I adored this book and can't wait for the next in the series. If you read and enjoy crime fiction, you will adore it too.
Published on eBook on 30 June 2018 and paperback on 6 September 2018, you can get a copy of Overkill HERE.