I am so pleased it is finally my turn on the Hydra blog tour as I have been dying to shout about this book for what feels like an eternity. The much anticipated follow up to Six Stories by Matt Wesolowski is finally published this month and it's fair to say that I liked it just a tad! So, here is what Hydra is about and my thoughts on it.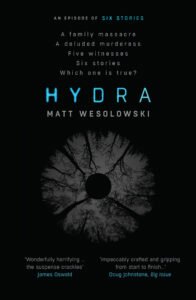 The Blurb
One cold November night in 2014, in a small town in the northwest of England, 21-year-old Arla Macleod bludgeoned her mother, stepfather and younger sister to death with a hammer, in an unprovoked attack known as the Macleod Massacre. Now incarcerated at a medium-security mental-health institution, Arla will
speak to no one but Scott King, an investigative journalist, whose Six Stories podcasts have become an internet sensation.
King finds himself immersed in an increasingly complex case, interviewing five key witnesses and Arla herself, as he questions whether Arla's responsibility for the massacre was as diminished as her legal team made out.
As he unpicks the stories, he finds himself thrust into a world of deadly forbidden 'games', online trolls, and the mysterious black-eyed kids, whose presence seems to extend far beyond the delusions of a murderess…
Dark, chilling and gripping, Hydra is both a classic murder mystery and an up-to-the-minute, startling thriller that shines light in places you may never, ever want to see again.
My Thoughts
Matt Wesolowski's Six Stories was my book of 2017 and if I thought it was difficult to write a review to do Six Stories justice I once again have my work cut out reviewing Hydra. Quite simply, Hydra is to die for!
In 2014 Arla Macleod bludgeoned her mother, stepfather and sister to death with a hammer and following her trial she has been incarcerated in a medium-secure mental health hospital. Once again, we find ourselves in the safe hands of Scott King, the creator of the Six Stories podcasts, as he sets out to explore if the diminished responsibility ruling that Arla's defence team argued holds up. Through the interviewing of five witnesses and Arla herself, King attempts to unravel the events that resulted in the 'Macleod Massacre'. I was instantly attracted to the premise of Hydra as it sparked off childhood memories of me reading about Lizzie Borden, the '40 whacks' poem about her and the kind of morbid fascination I had about the case. Wesolowski taps into the consciousness of the majority of people who seek to understand why some people go on to commit such horrific acts, making his books immediately interesting and compelling.
Demonstrating that he has his finger firmly on the button of what is happening in today's society, Wesolowski draws on mental health, social media and the media to ensure that Hydra is a bang up to date thriller. It has a considered intelligence about it as he draws on such as issues as media sensationalism, the search for 'blame' in order to rationalise and explain the unexplainable – often in the wrong areas, think Marilyn Manson in Columbine and Child's Play in the Bulger case – and the pervading nature of the internet in our lives. With social media Wesolowski immediately draws on one of my fears and coupled with the black-eyed children that play a part in the book, he had me looking over my shoulder as I read. Hydra is creepy as hell … and I'm not one who gets scared easily!
In terms of the prose, Wesolowski again skilfully ensures that the unique character of each voice shines through. Hydra is every inch as beautifully written as its predecessor, Six Stories, demonstrating that Wesolwski is no one trick pony but, indeed, a formidable talent. Hydra is every inch as fresh and current as his debut which will delight all those readers who have eagerly anticipated this book. Hydra literally pulses with atmosphere as you wind your way through the stories to its startling conclusion. Could I have possibly already found my favourite book of 2018?
Intelligent, thoughtful and damn scary, read Hydra with the big light on and not before bedtime! Absolutely bloody brilliant!
Published on 15 January 2018 by Orenda Books you can grab your copy HERE.
A huge thank you to Matt Wesolowski, Karen Sullivan and Anne Cater for my advance copy of Hydra and for inviting me to take part in the blog tour.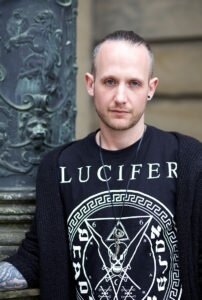 About the Author
Matt Wesolowski is from Newcastle-Upon-Tyne in the UK. He is an English tutor for young people in care. Matt started his writing career in horror, and his short horror fiction has been published in numerous UK- and US-based anthologies such as Midnight Movie Creature Feature, Selfies from the End of the World, Cold Iron and many more. His novella, The Black Land, a horror set on the Northumberland coast, was published in 2013. Matt was a winner of the Pitch Perfect competition at Bloody Scotland Crime Writing Festival in 2015. His debut thriller, Six Stories, was an Amazon bestseller in the USA, Canada, the UK and Australia, and a WHSmith Fresh Talent pick, and film rights were sold to a major Hollywood studio…
Follow the rest of the tour…