Happy hump day, I'm back with another Author Influences this week with the lovely Linda Huber.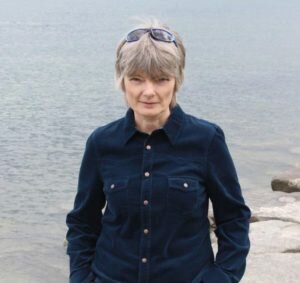 Which authors/books did you like to read as a child?
I started with Enid Blyton's Noddy, then moved on to The Famous Five, and then her school stories… to The Chalet School books… on to Agatha Christie – and that was me hooked on crime fiction!
Were you good at English at school? Did you like it?
I loved English. I wasn't especially brilliant at it, but I was usually in the top half of the class. We used to get home readers, and this was great because they were often books I wouldn't otherwise have found.
What genres do you like to read? Have they had an impact on the genre you write?
I mostly read crime fiction – I just love psychological suspense. As a girl, I discovered Mary Higgins Clark and her books, and I would snap them up as soon as they came on the market. Ruth Rendell/Barbara Vine was another. Nowadays there are so many great books out there I couldn't begin to list my favourites of the past couple of years.
If you were to write a different genre what would it be and why?
I dabble a little in romance, too. Sometimes it just does your soul good to get away from the blood and guts and grim reality of crime fiction… My first published writing was romantic short stories for womens' mags. But the suspense/thriller writing definitely takes precedence!
Did any author's work encourage you to pick up your pen and write and if so who, what and why?
I started writing novels around the turn of the century, I can't remember exactly when. It was more of a gradual process; I'd had some success with the short stories, and I loved Mary Higgins Clark and her books, and I suppose I just thought – why not try? So I did.
Are there any authors who, as soon as they publish a new book, you have to get it?
Val McDermid's Tony Hill series, and Elizabeth George and her Lynley. And I've made so many crime fiction-writing friends since 2013 when my first book was published, and I always get their books too. Jane Isaac, Bea Davenport, Alison Gray – and now I have a whole lot more at Bloodhound Books! It's lovely.
Which books have you read that have made you think 'Wow, I wish I had written that' and what was it about the book?
A High Wind In Jamaica by Richard Hughes comes to mind. It's an old one; it was a school reader, and the story is told as seen by eleven-year-old Emily. Hughes gets right into the child's point of view; it's amazing writing. And the ending is chilling.
Have any of your plots/characters been influenced by real life events/people? (Be careful, I don't want you getting sued!)
Not real people, but real stories. I had the idea for Baby Dear when I saw a news story about a woman who had lost her own baby, and then abducted another woman's child from the maternity hospital. The idea for The Cold Cold Sea came when I was researching my family tree, and discovered a child in my extended family had drowned in the 1940s. I'd known nothing about her.
A huge thank you Linda for taking part.
Linda's latest book Baby Dear is out now. Here is what it's about…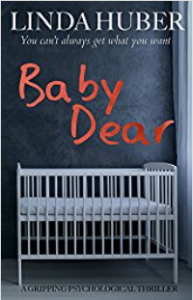 Caro and Jeff Horne seem to have it all until they learn that Jeff is infertile. Caro married Jeff because her biggest wish was to be a mother, and he had the means to give their children a better life than she'd had. Jeff, who is besotted with Caro, is terrified he will lose her now they can't have a baby.
Across town, Sharon is eight months pregnant and unsure if she really wants to be a mother. Soon her world will collide with Jeff's. He wants to keep Caro happy and decides that getting a baby is the only way.
Then Caro is accidently drawn into an underworld of drugs…
Meanwhile, Jeff is increasingly desperate to find a baby – but what lengths is he prepared to go to?
Is Sharon in danger, and will Caro ever have the family she's always dreamed of?
About Linda
Linda Huber grew up in Glasgow, Scotland, but went to work in Switzerland for a year aged twenty-two, and has lived there ever since. Her day jobs have included working as a physiotherapist in hospitals and schools for handicapped children, and teaching English in a medieval castle.
Her writing career began in the nineties, when she had over fifty feel-good short stories published in women's magazines. Several years later, she discovered the love of her writing life – psychological suspense fiction. Her first novel was published in 2013, and was followed by five others. She has also published a charity collection of feel-good short stories.
website: http://lindahuber.net/
Twitter:
Facebook:
Amazon Author Page: viewAuthor.at/LindaHuber