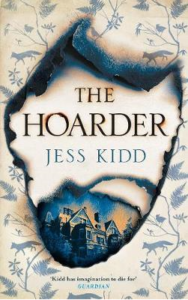 The Blurb
Maud Drennan – underpaid carer and unintentional psychic – is the latest in a long line of dogsbodies for the ancient, belligerent Cathal Flood. Yet despite her best efforts, Maud is drawn into the mysteries concealed in his filthy, once-grand home. She realises that something is changing: Cathal, and the junk-filled rooms, are opening up to her.
With only her agoraphobic landlady and a troop of sarcastic ghostly saints to help, Maud must uncover what lies beneath Cathal's decades-old hostility, and the strange activities of the house itself. And if someone has hidden a secret there, how far will they go to ensure it remains buried?
My Thoughts
The Hoarder is the second novel by Jess Kidd and it had a lot to live up to as I completely fell in love with Kidd's debut novel, Himself. Kidd has certainly proved herself as an author we can expect great things from as The Hoarder is wonderful.
Maud Drennan is a home carer who has been assigned the difficult Cathal Flood as her client. His once-grand home, Bridlemere, is stuffed to the rafters with junk and as Maud attempts to clear some of it she finds herself embroiled in a mystery.
The characters who make up The Hoarder are brimming with personality. Cathal Flood, despite being a grumpy so-and-so, has a charm that ensured I adored him and wanted a positive outcome for him. Another favourite character is Maud's agoraphobic landlady and neighbour Renata. Kidd's skill at developing offbeat characters who get straight to your heart is second to none. The peripheral characters of the saints who 'haunt' Maud are a welcome addition, serving to add a sardonic humour with their sarcastic observations. You will never think of St Valentine in the same way again!
This quirkiness is one of the things that sets Kidd's books apart from anything else you are likely to read. While The Hoarder is at heart a mystery, it is quite unlike any other. It has all the elements needed to make it a gripping mystery but also biting Irish humour and observations and a supernatural twist. It is like a modern day gothic novel with unearthly going-ons in a house that willingly gives up its secrets to Maud.
The prose throughout The Hoarder is beautiful. Kidd certainly has a way with words and her descriptions are stunning, ensuring that The Hoarder is literally brimming with atmosphere. All of the senses are used to build an evocative picture.
A first-rate follow up to her debut novel, The Hoarder was everything I expected from Jess Kidd. If you haven't yet read anything by this author ensure you do now! The Hoarder is exquisite, sublimely written and a great story.
The Hoarder is published on 1st February 2018 by Canongate Books. You can pre-order a copy HERE.
A huge thank you to Jess Kidd, Sue at Conville and Walsh and Canongate Books for the advance copy of The Hoarder in exchange for my honest and unbiased review.