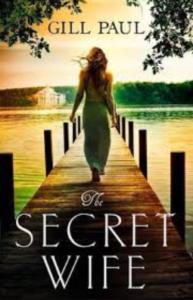 Today I'm hosting on the blog tour for Gill Paul's The Secret Wife and I'm excited to be able to whet your appetite for this book with an excerpt and share my review.  This book is, quite simply, stunning!
The Blurb
A Russian grand duchess and an English journalist.  Linked by one of the world's greatest mysteries…
Love. Guilt. Heartbreak
1914
Russia is on the brink of collapse, and the Romanov family faces a terrifyingly uncertain future.  Grand Duchess Tatiana has fallen in love with cavalry officer Dmitri, but events take a catastrophic turn, placing their romance – and their lives – in danger…
2016
Kitty Fisher escapes to her great-grandfather's remote cabin in America, after a devastating revelation makes her flee London.  There, on the shores of Lake Akanabee, she discovers the spectacular jewelled pendant that will lead her to a long-buried family secret…
Haunting, moving and beautifully written, The Secret Wife effortlessly crosses centuries, as past merges with present in an unforgettable story of love, loss and resilience.


 Excerpt  
Prologue
Lake Akanabee, New York State, 19th July 2016
It was twenty-nine hours since Kitty Fisher had left her husband and in that time she had travelled 3,713 miles. The in-flight maga¬zine had said there were 3,461 miles between London and New York, and the hire car's Sat Nav told her she had driven 252 miles since leaving the airport. A whole ocean and half a state lay between her and Tom. She should have been upset but instead she felt numb.
Back in the UK it was four-thirty on a Sunday afternoon and she wondered what Tom was doing, then grimaced as she pictured him pottering around the house in his jogging bottoms and t-shirt. He would no doubt have called her closest friends, all innocence, asking if they knew where she was. How long would it take him to work out she had flown to America to look for the lakeside cabin she'd inherited from her great-grandfather?
She had been careful not to leave any paperwork behind so he didn't have the address. Let him stew for a while. It served him right for his infidelity. She shuddered at the word, an invol¬untary image of the messages on his phone flashing into her brain. She was still in shock. Nothing felt real. Don't think about it; stop thinking.
The woman on the Sat Nav was comfortingly sure of herself: 'In two hundred yards take a left onto Big Brook Road.' It felt nice to be told what to do; that's what she needed when the rest of her life was falling apart. But a few minutes later the voice-lady seemed to get it wrong. 'You have reached your destination' she said, but all Kitty could see was dense forest lining the road on either side. She drove further but the voice urged her to 'Turn around'.
Kitty got out of the car to explore on foot and, peering through the trees, discovered a track overgrown with waist-high grass and hanging branches. She consulted the map that had been sent with the cabin's ownership documents and decided this must be it. The car's paintwork would get scratched if she tried to drive down so she set off on foot, pushing her way through the thicket. There was a droning of insects and a strong smell of greenness, like lawn cuttings after rain. Before long she could see the steely glint of Lake Akanabee, with pinpricks of light dancing on the surface. When she reached the shore she looked around, squinting at her map. The cabin should have been right there.
And then she noticed a mound about twelve feet tall, camou¬flaged by creeping plants. It was thirty years since anyone had lived there and Kitty was prepared for the cabin to be reduced to a pile of rubble. Instead it was as if the forest had created a cocoon to protect it from the elements. Weeds wrapped themselves around the foundations, pushed in through broken windows and formed a carpet over the roof. The entrance was barely visible through a mass of twisted greenery. But the cabin's location, nestled on a gentle slope just yards from the pebbly shore, was stunning.

My Review
Wow! I adored this book! I studied A Level History as a teenager and since then have had a real fascination with Russia and Russian history, so I jumped at the chance to read this book. I'm not sure I'm going to be able to describe just how much I enjoyed it!
The Secret Wife has a dual storyline and is set in Russia from 1914 onwards and present day America. Told through the eyes of Kitty Fisher, who has fled from Britain to her great-grandfather's cabin in America following relationship difficulties, and Dmitri Malama, a Russian cavalry officer, who is in a military hospital during the first world war.
Kitty's side of the story centres around her coming to terms with her relationship difficulties and her finding out more about her great-grandfather, who she previously knew nothing about. I loved the genealogy aspect of the story and the unfolding of Kitty's family secrets.
Dmitri's side of the story tells the tale of his love affair with Grand Duchess Tatiana Romanov against the backdrop of the political instability of Russia at that time. This is the start of a beautiful but tragic love story that had me in tears by the end of the book.
Gill's characterisation is fantastic, Dmitri is portrayed wonderfully. He is heroic and brave with the melancholia often associated with the Russian character. His passion and deep love for Tatiana is beautifully described and portrayed by Gill and you cannot help but adore him and go through his emotions with him.
It is clear that a lot of research has gone into The Secret Wife. Gill provides an accurate portrayal of Russia at this time. The difficulties faced by the Russian troops against the Germans despite their large size, the feelings of discontent towards the Romanovs who lived in luxury while their people struggled and lived in poverty, the build up to the revolution and the dire consequences of it's success. The brutality in the way the Red Army dealt with the Romanov family is distressing but historically accurate. Gill has made this fascinating period in history understandable and interesting.
Kitty's story is equally enjoyable. The profound impact the discovery of her great-grandfather's life has on her is touching. Hers is a tale of learning to understand relationships, how they change with time and how to nurture them.
The Secret Wife seamlessly moves between the centuries, and as the past and present come together, you cannot help but be moved. Gill is an extremely talented writer, she has brought the story of the Romanovs vividly to life. I love the slant she has taken, drawing on past actual claims that some of the Romanov children where still alive, it really sets your imagination on fire.
I highly recommend this book. It is beautifully written, fascinating,  historically accurate and leaves you with the thought 'what if…?'
A huge thank you to Gill Paul and Helena Sheffield from Avon Books for the copy in exchange for my opinion.
Published 25 August 2016 by Avon Books.
Catch the rest of the brilliant bloggers on the tour…