I am delighted to be one of the stops on the blog tour for The Old You by Louise Voss today. This book is a bit of a cracker but before I share my thoughts let's find out what it is about.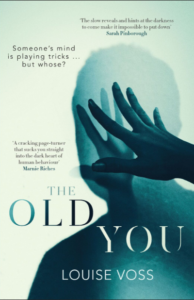 The Blurb
Nail-bitingly modern domestic noir
A tense, Hitchcockian psychological thriller
Louise Voss returns with her darkest, most chilling, novel yet…
Lynn Naismith gave up the job she loved when she married Ed, the love of her life, but it was worth it for the happy years they enjoyed together. Now, ten years on, Ed has been diagnosed with early-onset dementia, and things start to happen; things more sinister than lost keys and missing words. As some memories are forgotten, others, long buried, begin to surface … and Lynn's perfect world begins to crumble.
But is it Ed's mind playing tricks, or hers…?
My Thoughts
Oh my goodness, Louise Voss's The Old You is a startling example of how to write the domestic noir! Why? Let me explain…
The plot centres around Lynn Naismith and her older husband Ed. Lynn gave up everything to be with Ed and she has been happy in their marriage. However, when Ed is diagnosed with Pick's Disease, a form of early onset dementia, not only does Lynn have to contend with her husband losing his memory but also strange, inexplicable things that begin to happen.
Voss writes in such a way that the plot of The Old You kind of creeps up on you and there are numerous moments that knock you for six. It is unnerving in its depiction of what could actually happen as Lynn watches the dementia completely alter her husband's personality. As the story unfolds, Voss ratchets up the tension and there is an overarching sense of unease and, in a strange way, it made feel a little claustrophobic. I guess this comes from the fact that the fear is centred around the confines of Lynn's marriage and home.
Constantly keeping you on the back foot and looking for clues, Voss has crafted an intricate and clever plot. As revelation after revelation are revealed I was unsure of who I could trust in the telling of this story, and I had no idea which way the plot would go next. I have always been a fan of books and films in which you doubt the sanity and reliability of the main character/narrator and Voss pulls this off wonderfully.
Voss's writing is fantastic throughout with beautifully phrased lines that resonate with you and make you think. It opened up my mind to how it must feel living with someone whose mind is being affected by disease and the sense of loss of both your loved one and your old life. It has clearly been meticulously researched to make it authentic.
We get glimpses into Lynn and Ed's life prior to his diagnosis. Despite these switches in time throughout the storyline, Voss manages to ensure that the atmosphere of the current storyline is not lost or diminished in any way.
I loved The Old You, and I would go as far as saying if you only read one domestic noir this year make it this one as you will be hard pushed to find better. Tense, chilling and cleverly plotted.
Published on eBook on 28 February 2018 and paperback on 15 May 2018 by Orenda Books. You can get a copy HERE.
About the Author
Over her eighteen-year writing career, Louise Voss has had eleven
novels published – five solo and six co-written with Mark Edwards: a
combination of psychological thrillers, police procedurals and
contemporary fiction – and sold over 350,000 books. Louise has an
MA (Dist) in Creative Writing and also works as a literary consultant
and mentor for writers at www.thewritingcoach.co.uk. She lives in
South-West London and is a proud member of two female crimewriting
collectives, The Slice Girls and Killer Women.
My thanks go to Louise Voss, Karen Sullivan of Orenda Books and Anne Cater of Random Things Blog Tours for the copy of The Old You and for inviting me to take part in the blog tour.
Catch the rest of the tour…