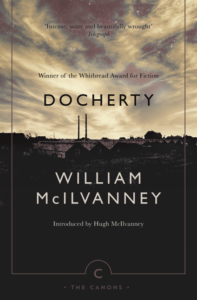 The Blurb
'His face made a fist at the world. The twined remnant of umbilicus projected vulnerably. Hands, feet and prick. He had come equipped for the job.'
Newborn Conn Docherty, raw as a fresh wound, lies between his parents in their tenement room, with no birthright but a life's labour in the pits of his small town. But the world is changing, and, lying next to him, Conn's father Tam has decided that his son's life will be different from his own.
Gritty, dark and tender, McIlvanney's Docherty is a modern classic.
My Thoughts
Set in the early 20th Century, William McIlvanney's Docherty is a searing indictment of the lives of the Scottish working classes during this time period, and a brutal but honest look at the conditions they faced, economically, socially and politically.
It follows the lives and fates of the Docherty family and starts when Conn Docherty is born. The Docherty family live in a small pit village in Scotland and on the birth of his fourth child, father Tam Docherty swears that this child will lead a different life to him.
Tam Docherty is a hard but gentle man; respected by his peers and loved by his family. A firm believer that the men and women of his class deserve more, he wants nothing more than for life to be different for his children. Unfortunately, achieving that is not simple when you live in the shadow of the coal mine. There is an air of inevitability about the book as we quickly see that there is no room for manoeuvre when you are born into the lower classes. As opportunities are stripped away from them, the Docherty children have to make do with what life has presented to them.
Docherty is incredibly heart breaking and yet McIlvanney also manages to interject wry humour and this is demonstrated from the outset. It is a reflection of how the people in this close-knit community cope with the hardships they have been handed.
All of the characters are strongly written and they all make a huge impression on you. We see how each of Tam and Jenny Docherty's children react to their situation and the ways in which the parents struggle but manage to provide for them. They are brought to life through McIlvanney's use of colloquial language and while it can take some getting used to for a non-Scot it is worth it. As we follow Mick, Kathleen, Angus and Conn as they grow into adults, we see how their social circumstances impact on them and the way they go on to live their lives.
Docherty provides an exploration of poverty and how those living in the dire circumstances cope. There is a strong emphasis on the moral code that the inhabitants of Graithnock adhere to and a real sense of a support network. That's not to say that everything is perfect, it is far from it, but it is these things that help them survive the harshness of their everyday life.
I couldn't help but feel a sense of claustrophobia while reading Docherty. It's as though the characters have become all-consumed by their poverty and, as a result, their surroundings. When one of the Docherty boys attempts to escape via enlisting as a soldier, he returns from WWI to find this has further entrenched his place in Graithnock. The lack of any ability to escape is a sad reflection of Great Britain at the turn of the century.
Full of grit, rage and despair, yet interspersed with dry, Scottish humour, Docherty is an uncomfortable read but an essential read. If you like your literature to be unflinching in its depiction of life at the harshest end of the scale you will enjoy Docherty.
Published on 3 November 2016 by Canongate you can get your copy HERE.
My thanks go to Canongate for the copy of Docherty in exchange for my review.