I am delighted to be taking part in the blog tour for the debut by Ronnie Turner, Lies Between Us, today.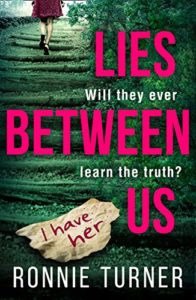 The Blurb
Will they ever learn the truth?
Three people, leading very different lives, are about to be brought together – with devastating consequences . . .
John has a perfect life, until the day his daughter goes missing.
Maisie cares for her patients, but hides her own traumatic past.
Miller should be an innocent child, but is obsessed with something he can't have.
They all have something in common, though none of them know it – and the truth won't stay hidden for long . . .
A gripping psychological thriller for fans of Clare Mackintosh, Shari Lapena and Lisa Jewell.
My Thoughts
I was extremely excited to finally read Ronnie Turner's debut novel, Lies Between Us, and also a little bit apprehensive as she is a fellow book blogger. I am delighted to finally be sharing my thoughts on this epic blog tour.
Lies Between Us follows three characters over three different timelines. We see Miller, a child in the 1980s, Maisie an ICU nurse in 2016 and John, whose daughter has been kidnapped, in 2015. Throughout we are left wondering how the three threads will eventually come together. Lies Between Us is an ambitious debut novel and hats off to Turner for trying her hand at such a complex plot.
Turner is an incredibly talented writer and Lies Between Us is beautifully written. The chapters in which we follow Miller really demonstrate what Turner is capable of and had me in mind of a kind of reverse We Need to Talk About Kevin. Her portrayal of a child who is clearly a psychopath is incredibly chilling and unnerving. Miller's sections are written in second person narrative, often a difficult feat to pull off, but Turner does it brilliantly and this adds to the creepiness of Lies Between Us.
The rest of the characterisation in the book is also really well done. John's parts in particular are incredibly emotional. Turner's portrayal of a parent whose child has been kidnapped is really moving and she has a real sensitivity when it comes to describing emotions and conveying them to the reader.
I did have a few difficulties with the plot. I guessed quite early on who the perpetrator was and the ending left me feeling confused and almost as though the plot and the layout of the book were at odds with each other. I feel that it could have been set out better and that the headings of some of the chapters may have been better left anonymous as this was what caused me the most confusion.
Lies Between Us is a slow burner and while the pace fit perfectly with the storyline, I felt that Maisie's thread slowed it down a little too much at times. By the end of the book I did struggle to understand the significance of her storyline.
Turner has clearly demonstrated her skill as a writer and while I did have some issues with the execution of Lies Between Us, I adored Turner's use of language, her ability to show emotional acuity and her skill at developing solid, believable characters. An ambitious debut, Ronnie Turner has shown herself to be an author to watch out for and I look forward to reading her future novels.
Published on E-book and audiobook on 1 October 2018 and paperback on 13 December 2018, you can get your copy HERE.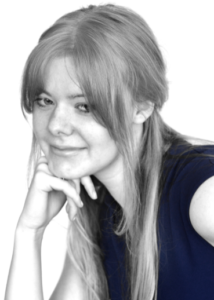 About the author
Ronnie Turner grew up in Cornwall, the youngest in a large family. At an early age, she discovered a love of literature and dreamed of being a published author. Ronnie now lives in Dorset with her family and three dogs. In her spare time, she reviews books on her blog and enjoys long walks on the coast. She is currently working on her second novel.
Twitter:@Ronnie_ _Turner
Facebook: @RonnieTurnerAuthor
Instagram: @ronnieturner8702
Website: www.ronnieturner.wordpress.com
Goodreads: https://www.goodreads.com/RonnieTurner
My thanks to Ronnie Turner, HQ Digital and NetGalley for the advance copy and for inviting me to take part in the blog tour.