I'm bloomin' excited today to have an interview with the brilliant and lovely Christie Barlow.  Her latest novel Lizzie's Christmas Escape is out today and I wish her a very happy publication day.  Without further ado I will crack on with the interview –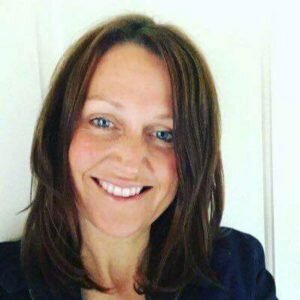 Did you always know you wanted to be a writer? How did your writing journey begin?
My journey has been incredible. It is like a dream! Once hitting my mid-life crisis after wholly dedicating my life to the care of my children, they asked me what I wanted to do. "I always wanted to write a book," I found myself answering. And so the idea was born.
Who encouraged you to finally take the plunge and write your first novel?
My gorgeous children encouraged me, Emily, Jack, Ruby and Tilly.
How do you go about writing your books? Do you have a set time of day in which you write and aim to produce so many words?
My writing routine is very similar each day. I start the day by ambling across the fields with my best pal Woody. He is a mad cocker spaniel. Once we return home, I usually switch the kettle on, fire up the computer and then eat my body weight in anything sugary while writing. I aim to write between 2,000 and 2,500 words a day.
Do you carefully plan your novels or do you have an idea and then write and see where it takes you?
On average it takes me five months to write a book and I think I gain about five pounds in weight with every book I write! I plan each book, chapters and characters and have a huge wall plastered with post it notes. I know my characters inside and out and the general gist of how I want the story to progress, but then I love it when all of a sudden the story goes flying off in a totally different direction than I'd originally intended. That's the magic of writing!
Do you ever suffer from writer's block? If so how do you overcome it?
I haven't yet and fingers crossed it stays that way!
What was the inspiration behind Lizzie's Christmas Escape?
Lizzie's Christmas Escape wouldn't have been written if it wasn't for Gary Barlow! He was the one who provided that little spark of inspiration for this story. I'd just like to make it clear I don't have Gary locked away in my pantry like Lizzie in the book, but when I'm up at the crack of dawn, feeding my many animals and collecting the fresh eggs from the coop, I have been known to have an early-morning chat with my Gary Barlow calendar!
How did you create the characters in Lizzie's Christmas Escape?
I was travelling to London on the train when a couple of women sat down opposite me. For the whole journey they chatted about how it would be fantastic to escape from their mundane routine and if it wasn't for their friendship they would definitely go insane! So the idea was born!
It was really touching that you used the name Ann Sandeman and I loved this. How did you come up with the other names for your characters? (I had to ask this given you have an Abbie and a Freya and I have a Freya hahaha)
The characters Abbie and Freya are named after my chickens!
I love the way you have portrayed the relationship between Lizzie and Ann in Lizzie's Christmas Escape, is this friendship drawn on your real experiences?
The characters of Lizzie Stevens and Ann Sandeman have been a huge part of my life for the last four months. The tale of their genuine friendship is one I can absolutely relate to. Over the past few years, people have come into my life for a reason or a season however, true friendship is hard to find. For the past twenty-five years I've had a genuine friendship with my bestie Anita Redfern; she knows I'm crazy and still puts up with me. True friendship isn't about being inseparable, it's about being separated and knowing nothing will change. Everyone should have an Anita in their life!
Your books have such a warm feel to them, how do you go about creating this?
Aww thank you! I just write from the heart!
Who has been the biggest support in your writing career?
My husband, my children and my best friend Anita. Sometimes when I'm writing they don't see me for long periods of time when I shut myself away. However, they are always on hand with cuddles, laughs and numerous cups of tea if I pop out of my writing cave.
What advice would you give to other inspiring authors?
Read and read widely. Writers always find time to read.
Set time aside to write every day that way there will always be continuity.
Find some people you can trust to read and give you feedback. I have a couple of good friends who read my chapters as I write them. They are always honest and constructive.
Accept criticism if you respect the source.
Write the ending first! I know some writers may think this is bonkers but I work backwards! If I know what the ending is, it always gives me a clue how the middle of book will shape up!
There is no right or wrong way to write a book but just make sure you enjoy it!
Thank you Christie for taking part and allowing me to badger you with questions.  I'm thrilled there are a couple of chickens running around called Abbie and Freya, hahaha.  It was great having you here on Bloomin' Brilliant Books.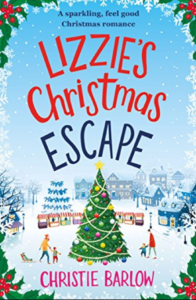 Christie's latest novel Lizzie's Christmas Escape is out today! Published by Bookouture it is a feel-good, laugh-out-loud novel with the signature marks of a Christie Barlow book that I love.  You can check out my review HERE and purchase a copy HERE.