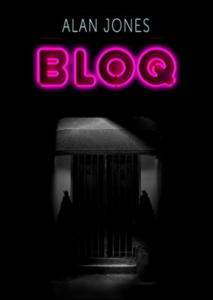 The Blurb
A gritty crime thriller.  Glasgow man Bill Ingham waits in the city's Central Station to meet his daughter, returning home from London for Christmas.  When the last train pulls in, and she doesn't get off it, he makes a desperate overnight dash to find out why.  His search for her takes over his life, costing him his job and, as he witdraws from home, family and friends, he finds himself alone, despairing of ever seeing her again.
My Review
Bloq by Alan Jones is a dark, gritty thriller that takes you on one hell of a journey. Bloq is also the story of a father's love for his daughter and the lengths he will go to for her.
It starts with a brilliantly gruesome prologue which leaves you with so many questions you can't help but read on and then leads straight into the story of Bill Ingham who has gone to meet his daughter at Glasgow train station, however she does not turn up. Alan draws on every parents worst nightmare and what follows is a thrilling yet moving story of a father's search for his missing child.
Alan has created a fantastic cast of characters and has managed to write a book that is both unnerving and yet rich in emotion. Bill is a highly likeable character, and I felt my heart breaking for him as he desperately tries to find his daughter, discovers that he knew nothing about what her life in London was actually like and all that he has recently been through prior to his daughter's disappearance. Carol, Bill's daughter, is the somewhat naïve young woman who has had a sheltered upbringing and is drawn to an exciting and what she views as glamorous lifestyle. I love a book that is strongly character based and Alan has created this.
Bloq is well paced and the narration works brilliantly. He seamlessly moves between past and present to gradually unravel the truth ensuring that you are reading until late into the night as you cannot put the book down! The tone has a darkness about it which fits perfectly with the seedy underbelly we, as the reader, are drawn into. As the story twisted into directions I did not see coming I was left holding my breath while frantically turning the pages.
Bloq has everything you could want from a crime thriller. It has a depth to it with characters that evoke empathy, the perfect amount of seediness and grit that results in a dark and sinister read and one hell of a storyline that twists and turns. Absolute brilliance!
A huge thank you to Alan Jones for the copy of Bloq in exchange for my review.
Published 1 April 2016 by Ailsa Publishing.
Purchase a copy of Bloq HERE.