I'm chuffed to be hosting today's post for The Finnish Invasion blog tour and am sharing with you my review of The Mine by Kati Hiekkapelto…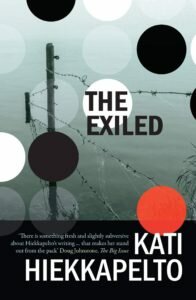 The Blurb
Anna Fekete returns to the Balkan village of her birth for a relaxing summer holiday.  But when her bag is stolen and the thief is found dead on the banks of the river, Anna is pulled into a murder case.  Her investigation leads straight to her own family and to closely guarded secrets concealing a horrendous travesty of justice that threatens them all.  As layer after layer of corruption, deceit and guilt are revealed, Anna is caught up in the refugee crisis spreading across Europe.  How long before everything explodes?
Chilling, tense and relevant, The Exiled is an electrifying, unputdownable thriller from one of Finland's most celebrated crime writers.
My Thoughts
When Anna Fekete returns to her home town of Kanizsa in Serbia for a holiday and has her bag stolen by a thief who is later found dead her investigation takes her on journey she never expected.
This is the third book in the Detective Anna Fekete series, however it works perfectly as a standalone novel as I have not read the previous two. The first chapter immediately drew me in with it's stunning prose and the need to know what has led to that situation as Kati gives you a glimpse of what's to come while effectively leaving you hanging on to find out more. The following chapters take you back to events leading up to the first chapter. The structure of this book is well constructed and works extremely well as you follow Anna each day with occasional flashbacks to the past and to other characters.
The tension is built throughout the book with chapters ending at just the right moment leaving questions in the readers mind. The prose is stunning with a subtlety that adds to the atmosphere of the setting and the events that unfold. This fits perfectly with difficult subject matter that runs throughout the book.
Kati has spun a story of corruption set against the backdrop of a tenuous political climate. Current topical issues play a part in The Exiled with the current refugee crisis and the subsequent rise in the far right playing an important role in the story. Kati has covered this with an understanding and insight and yet does not force her views down your throat. She acknowledges the plight of refugees but also acknowledges the concerns of those who lives have been touched by it inadvertently.
Anna is a central component to the story, beyond being the detective who is trying to uncover the truth. Feeling rootless and struggling with her sense of identity and belonging, her experiences and feelings mirror, in some ways, those of the refugees around her. I really empathised with Anna and she is a character I look forward to finding out more about. 
The Exiled unfolds with the gradual peeling away of layers where secret upon secret is slowly unravelled. Anna's personal journey and the social situation add to the depth of the novel, making this much more than your average thriller.
Intelligently and beautifully written, The Exiled is a tense read perfectly mixing gripping thriller with social and political commentary.
Thank you to Kati Heikkapelto and Karen Sullivan at Orenda for the copy in exchange for my review and for including me on the blog tour.
Published on 10 October 2016 by Orenda. You can purchase a copy HERE.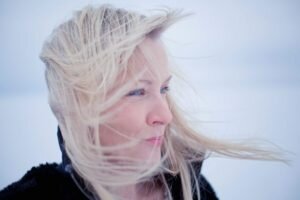 About Kati Hiekkapelto
Kati Hiekkapelto was born in 1970 in Oulu, Finland.  She wrote her first stories at the age of two and recorded them on cassette tapes.  Kati has studied Fine Arts in Liminka Art School and Special Education at the University of Jyvaskyla.  The Subject of her final thesis/dissertation was racist bullying in Finnish schools.  She went on to work as a special-needs teacher for immigrant children.  Today Kati is an international crime writer, punk singer and performance artist.  Her books The Hummingbird and The Defenceless have been translated into ten languages.  The Hummingbird was shortlisted for the Petrona Award in the UK in 2015 and The Defenceless won the best Finnish Crime Novel of the year 2014, and ha been shortlisted for the prestigious Glass Key.  She lives and writes in her 200-year-old farmhouse in Hailuoto, an island in the Gulf of Bothnia, North Finland.  In her free time she rehearses with her band, runs, hunts, picks berries and mushrooms, and gardens.  During long, dark winter months she chops wood to heat her house, shovels snow and skis.  Writing seems fairly easy, after all that.  Follow her on Twitter @HiekkapeltoKati or visit www.katihiekkapelto.com.