I am delighted to be taking part in the Maria in the Moon by Louise Beech blog tour today with the lovely Hayley at . Bloomin' heck did this book cause me some review-writing difficulties! Orenda seem to have the knack of causing me, what I call, 'review-stutter' in which I can't get my words out!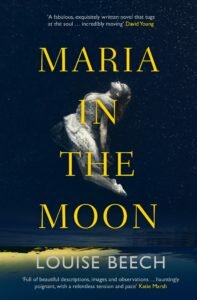 The Blurb
'Long ago my beloved Nanny Eve chose my name. Then one day she stopped calling me it. I try now to remember why, but I just can't.'
Thirty-two-year-old Catherine Hope has a great memory. But she can't remember everything. She can't remember her ninth year. She can't remember when her insomnia started. And she can't remember why everyone stopped calling her Catherine-Maria.
With a promiscuous past, and licking her wounds after a painful breakup, Catherine wonders why she resists anything approaching real love. But when she loses her home to the devastating deluge of 2007 and volunteers at Flood Crisis, a devastating memory emerges … and changes everything.
Dark, poignant and deeply moving, Maria in the Moon is an examination of the nature of memory and truth, and the defences we build to protect ourselves, when we can no longer hide…
My Thoughts
Ah, Louise Beech … I adore your books but you make review writing so incredibly difficult for me! Maria in the Moon is stunning and has so many qualities that any review I write will never fully convey the beauty within its pages. I could simply just say 'read it, you won't regret it' but that wouldn't be enough.
Maria in the Moon is the story of Catherine who used to be called by her full christian name Catherine-Maria. Catherine cannot remember why her family stopped calling her this name and, in fact, can't remember anything about her ninth year full stop. When she volunteers at Flood Crisis following her home being wrecked in the 2007 floods in Hull the memories she has kept hidden begin to come back to her.
Maria in the Moon had a personal edge for me as Hull is my hometown and I clearly remember the devastation caused to my friend's home by the 2007 floods. Beech has perfectly captured this situation and the distress it caused and I found it quite difficult and emotional to read. Little did I know that these emotions would be nothing compared to the ones I would feel as the book progressed.
Quite often I race through books but every now and again a book comes along that requires you to take your time over it in order to savour every word. Beech writes those kinds of books. Beech manages to convey those private thoughts you have but would never share with anyone else and the, often, mundanities of life with beautifully lyrical prose. Her use of imagery is beguiling and the beauty that she sees in the everyday make her a writer with extraordinary talent. I was wooed by the first chapter and as the book progressed I came to consider Catherine a friend.
Beech always displays great insight into the human condition and the impact that life events have, and she is a writer with great emotional intelligence. Always believable, her characters come across as authentic and the characters within Maria in the Moon are no exception.
Maria in the Moon is a heart rending read and covers some difficult issues, however, Beech incorporates humour which results in you both laughing and crying. This adds to the credibility of the book as life is often a mixture of both. She accurately portrays the struggle that Catherine has to bring those memories she has subconsciously hidden to the fore and also the aftermath when those memories finally re-surface. Despite the depths of sadness I went through reading this book it finally left me feeling uplifted.
A novel about the lengths our psyche goes to to protect us, what happens when those defences come down, the impact of traumatic events on our behaviour and identity, and ultimately redemption and hope, Maria in the Moon is a book that needs to be on your bookshelf. When reading take the time to read it slowly in order to fully appreciate its exquisiteness and for the emotions to take hold but, when all said and done, just make sure you read it.
Published on ebook on 15 August 2017 and paperback on 30 September 2017 by Orenda Books.
About the Author
Louise Beech is an exceptional literary talent, whose debut novel How To Be Brave was a Guardian Readers' Choice for 2015. The sequel, The Mountain in My Shoe was shortlisted for Not the Booker Prize. Both books have been number one on Kindle, Audible and Kobo in USA/UK/AU. She regularly writes travel pieces for the Hull Daily Mail, where she was a columnist for ten years. Her short fiction has won the Glass Woman Prize, the Eric Hoffer Award for Prose, and the Aesthetica Creative Works competition, as well as shortlisting for the Bridport Prize twice and being published in a variety of UK magazines. Louise lives with her husband and children on the outskirts of Hull – the UK's 2017 City of Culture – and loves her job as a Front of House Usher at Hull Truck Theatre, where her first play was performed in 2012.  She is also part of the Mums' Army on Lizzie and Carl's BBC Radio Humberside Breakfast Show.
A huge thank you to Louise Beech, Orenda Books and Anne Cater for the advance copy and for inviting me to take part in the blog tour.
Follow the rest of the tour…