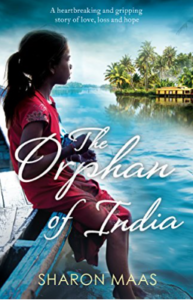 The Blurb
A lost child. A childless couple. Can they save each other?
Living on the streets of Bombay, Jyothi has no-one to turn to after her mother is involved in a tragic accident.
Monika and Jack Kingsley are desperate for a child of their own. On a trip to India, they fall in love with Jyothi and decide to adopt the orphan child.
The new family return to England, but Jyothi finds it difficult to adapt. As Monika and Jack's relationship fractures, Jyothi is more alone than ever and music becomes her solace. But even when her extraordinary musical talent transforms into a promising career, Jyothi still doesn't feel like she belongs. 
Then a turbulent love affair causes her to question everything. And Jyothi realises that before she can embrace her future, she must confront her past…
The Orphan of India is an utterly evocative and heart-wrenching novel that will stay with you long after you've turned the last page. Perfect for fans of Dinah Jefferies, Santa Montefiore and Diane Chamberlain.
My Thoughts
Sharon Maas has become my 'go-to' author when I need a break from thrillers and want a novel that delivers on an emotional and thought-provoking level while transporting me to a totally different place. So when the opportunity to read The Orphan of India came up I jumped at the chance. Maas has once again written a book that touches your heart.
Jyothi is a five-year-old Indian girl living in a small village with her parents when we first meet her in 1977. Her father's work as a dhobi has come to an end when their regular customers purchase a washing machine. The family move to Bombay in the hope that her father will find work in The Dhobi Ghat. The story progresses as we follow the fate of Jyothi throughout her life as she suffers losses and goes on to be adopted and moves to Britain.
The Orphan of India is a multi-faceted book that beautifully conveys the themes of inter-racial adoption and identity. Clearly well researched and considered, Maas really gets to the heart of how Jyothi feels – all of the confusion, the feeling of not completely belonging and her trying to find her sense of self – along with the challenges faced by her adoptive parents and the reactions from those around them. Jyothi struggles throughout her childhood and into her adulthood with her sense of identity and turns to her musical talents to define her. Some of the most beautiful prose comes when Maas describes the relationship between Jyothi and music and you can clearly tell that she is writing about this from the heart.
The narrative structure of The Orphan of India is an interesting one. We follow Jack and Monika Kingsley at from their arrival into Bombay from Britain in 1978 as Monika works to set up a charity in India and the narrative takes place in third person. As Jyothi grows the narrative structure changes to that of first person from the perspective of Jyothi. This clearly defines each part of the book and the serves to set the different stages of Jyothi's life and how her feelings grow and develop.
The Orphan of India is another wonderful book by Maas that has all the trademark thought and care that resonates throughout her work. A heart-rending, epic tale of loss and identity that gets into your heart.
Published on 28 June 2017 by Bookouture.
A huge thank you to Sharon Maas, Bookouture and Netgalley for the advance copy in exchange for my honest review.
Sharon recently took part in Author Influences … find out about her favourite books and authors HERE.