I am delighted to be one of today's stops on the Do No Harm by L. V. Hay's blog tour. Check out the blurb and then my review.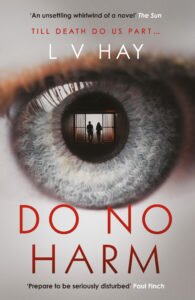 The Blurb
Till death do us part…
After leaving her marriage to jealous, possessive oncologist Maxwell, Lily and her six-year-old son have a second chance at happiness with headteacher Sebastian. Kind but vulnerable, Sebastian is the polar opposite of Maxwell, and the perfect match for Lily. After a whirlwind romance, they marry, and that's when things start to go wrong…
Maxwell returns to the scene, determined to win back his family, and events soon spiral out of control. Lily and Sebastian find themselves not only fighting for their relationship, but also their lives…
Chilling, dark and terrifying, Do No Harm is a taut psychological thriller and a study of obsession, from one of the most exciting new voices in crime fiction.
My Thoughts
L. V. Hay is back with her latest psychological thriller, Do No Harm. This is one of the books I have been highly anticipating this year following her scorching debut, The Other Twin.
Do No Harm follows Lily as she and her son embark on a new life with partner Sebastian. Sebastian is the absolute antithesis of her ex-husband, the possessive Maxwell, and life should be plain sailing and happy. However, Maxwell has decided that Lily and their son should still be with him.
Sounds like your average domestic noir, right? Wrong! Hay takes the domestic noir, shakes it up and turns it completely on its head. Do No Harm is more twisty than a slinky toy and as unpredictable in which direction it is going to take.
Do No Harm is skilfully written as Hay has cleverly weaved a plot that keeps the reader totally on the back foot when it comes to trying to work out what is going to happen. My theories were completely blown out of the water every time. The twists and turns are cleverly executed and utterly chilling. Hay has a way of building the tension to the point that when you finally reach the crescendo you feel as wrung out as the poor characters involved.
Using first and third person narrative to convey Lily and Sebastian, we are given unique access to the thoughts and views of those closely involved. The characterisation is totally on point and I couldn't help but become totally immersed in the lives of Lily and Sebastian. It's clichéd to say, but Do No Harm is unputdownable.
Hay will make you look at love in a whole new way. In Do No Harm, the concept of love is portrayed via those whose interpretation of what love is is totally skewed, and the result is a clever, chilling and utterly unnerving thriller. In Do No Harm, Hay takes the shock factor you expect in a psychological thriller and increases it by a hundred. One of the must-read thrillers of 2018.
Published on 15th June by Orenda Books, you can buy your copy HERE.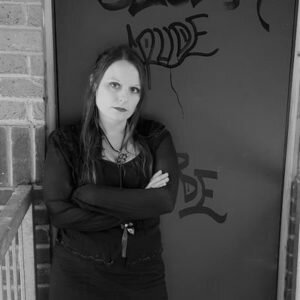 About the Author
Lucy V. Hay is a novelist, script editor and blogger who helps writers via her Bang2write consultancy. She is the associate producer of Brit Thrillers Deviation (2012) and Assassin(2015), both starring Danny Dyer. Lucy is also head reader for the London Screenwriters' Festival and has written two non-fiction books, Writing & Selling Thriller Screenplays, plus its follow-up Drama Screenplays. Her critically acclaimed debut thriller The Other Twin was published in 2017.
My thanks to Karen Sullivan and Lucy V. Hay for my copy of Do No Harm and to Anne Cater for inviting me to take part in the blog tour.