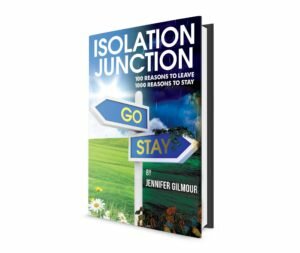 The Blurb
Rose is the mother of two young children, and finds herself living a robotic life with an abusive and controlling husband.  While she struggles to maintain a calm front for the sake of her children, inside Rose is dying and trapped in 'isolation junction'.  She runs an online business from home, because Darren won't let her work outside the house.  Through this she meets other mums and finds courage to attend networking events, while Darren is at work, to promote her business.  It's at one of these events that Rose meets Tim, a sympathetic, dark-haired stranger who unwittingly becomes an important part of her survival.  After years of emotional abuse, of doubting her future and losing all self-confidence, Rose takes a stand.  Finding herself distraught, alone and helpless, Rose wonders how she'll ever escape with her sanity and her children.  With 100 reasons to leave and a 1,000 reasons she can't, will she be able to do it?  Will Tim help her?  Will Rose find peace and the happiness she deserves?  Can Rose break free from this spiralling life she so desperately wants to change?
My Review
Isolation Junction is the debut novel by Jennifer Gilmour. It tells the story of Rose and her relationship with her husband Darren which has ended following years of domestic abuse. As a former social worker I have worked within a system that routinely deals with abusive relationships as a child protection issue and, therefore, had a particular interest in reading this book for review. Domestic abuse is a huge issue within the UK and one that, unfortunately tends not to be dealt with particularly well at times.
Written in two narrative styles the reader follows Rose in the present as she finally makes the break from her relationship and makes a new life for herself and her children and we get glimpses into the past via Rose's memories. With the present written in the third person and the past in the first person it is clearly marked out for the reader and makes you really get into her head, so to speak. With her memories interspersed with the present it also highlights how her current experiences bring back the painful memories of her relationship with Darren. You can't help but empathise with Rose and go through the myriad of emotions with her.
Jennifer has done a great job of portraying the realities of domestic abuse and you can tell that she has used real life experiences in writing Isolation Junction. Quite often the view of domestic abuse is a simplistic one that concentrates on the physical side and assumes that it is easy to leave the perpetrator, Jennifer has highlighted the insidious nature of domestic abuse and all the different methods used to control partners and control is essentially, in my humble opinion, what domestic abuse is about. Isolation Junction shows the way this control is built up slowly during the relationship and all the ways the partner undermines the other by eroding their self-esteem and support network. Sleep deprivation, gaslighting, isolating from friends and family and using the children are some of the methods Jennifer highlights which are not often at the forefront of people's minds.
As Rose unfortunately discovers leaving is not as straight forward as it may appear. With little help from housing associations and perpetrators using the Court system to hit at that most vulnerable part of a woman – her children – leaving is extremely difficult. The failure of adequate laws to protect those subjected to a Court process are also described in Isolation Junction. However, it can be done and Rose's story offers that hope.
I think Isolation Junction will be of great help to those who find themselves in a similar situation in helping them realise their experiences are not unique to them and that the methods their partner is using is not of their doing or in their heads. It also gives a realistic portrayal of the some of the barriers that will be faced when trying to leave.
I did find that some aspects of the story were a little unrealistic for some women who may be in a similar situation, Rose is very lucky with her new partner and the help her family are able to offer, but I also get that this book has been written to offer a sense of hope to those who find themselves in a similar situation when it may seem that all hope is lost.
Jennifer has done a great job at bringing the true experiences of domestic abuse, the difficulties of leaving,  the failure of services and within the law to life. I certainly think that Isolation Junction will be of value to those in a similar situation as Rose, enabling to them to see they are not alone, and those working with people subjected to domestic abuse in helping them to understand their experiences.  Isolation Junction is both a moving and uplifting read.
I wish Jennifer every success with Isolation Junction and huge credit to her for writing this book in order to try and assist others.
A huge thank you to Jennifer Gilmour for the copy in exchange for my review.
Published 22 September 2016 by CreateSpace Independent Publishing Platform and launched on 1 October 2016.
Connect with Jennifer at www.jennifergilmour.com
You can purchase a copy of Isolation Junction HERE