I am delighted to welcome Erik Therme to Bloomin' Brilliant Books today. Erik tells us all about the books and authors who have influenced him and I have news about how his latest book Roam.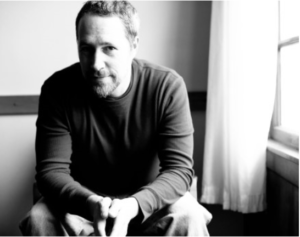 Which authors/books did you like to read as a child?
Harold and the Purple Crayon—a fantastical tale about a child who "draws things into existence" with his crayon—was one of my all-time favorite books growing up. When I grew older and graduated to chapter books, I devoured mystery series like Encyclopedia Brown and The Three Investigators.
Were you good at English at school? Did you like it?
I was a terrible student in general. I daydreamed, fidgeted, and spent the majority of class time watching the clock. I always scored low on my tests, and the only reason I passed any of my classes was because I got high marks on papers and assignments (i.e.: anything "writing" related).
What genres do you like to read? Have they had an impact on the genre you write?
I've always gravitated toward darker stories, and there's no question it's fed into my own story-telling. I think it's because I'm endlessly fascinated by people's motivations and the choices they make. Life is complicated and messy, and even the best of us have dark moments. Do the ends justify the means? Do two wrongs make a right? These are the types of questions that drive my characters to do what they do.
If you were to write a different genre, what would it be and why?
I think I would enjoy writing comedy. I love books that are infused with fun, quirky characters, and one of my favorite things in life is to try and make people laugh.
Did any author's work encourage you to pick up your pen and write and if so who, what and why?
In junior high, I discovered the book Misery (Stephen King), which inspired me to start writing my own stories. They weren't very good, but I kept at it, worked hard to hone my skills, and eventually developed my own writing style.
Are there any authors who, as soon as they publish a new book, you have to get it?
I'm always anxiously awaiting a new Joshua Gaylord (pen name Alden Bell) novel, who wrote one of my favorite books of all time: The Reapers Are the Angels. It's a tasty bit of literary fiction, set in a post-apocalyptic world of zombies. I would happily read this man's grocery list if he published it. Yes, he's that good.
Which book have you read that have made you think 'Wow, I wish I had written that' and what was it about the book?
Catcher in the Rye was the first book that truly spoke to me. It was as if Salinger had peered into my soul, stole my misunderstood youth, and put it on display for the world to see. I'd love to try my own hand at literary fiction, but I don't think I have the required talent, as my writing is never as elegant as I'd like.
Have any of your plots/characters been influenced by real life events/people? (Be careful, I don't want you getting sued!)
My latest novel, Roam, was inspired by a long stretch of highway on the outskirts of my hometown. In my younger days, I traveled the isolated road every weekend, and I always wondered what I would do if my car broke down, or if I came across a hitchhiker. Over time, a story began to take shape in my mind, and eventually—years later—Roam came to life.
A huge thank you Erik for the brilliant answers. I still haven't got round to reading Catcher in the Rye and I'm going to have to rectify that!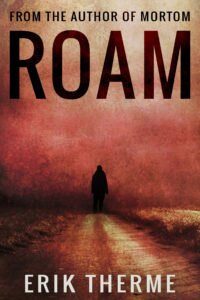 Erik's latest book Roam is out now and until 27th September it is FREE on BookBub so grab your copy while you can!
The Blurb
When three lives intersect in an unsavory hotel with a bloody history, each will struggle to exorcise their personal demons, unaware that a bigger threat is looming . . . and waiting for the right moment to strike.
Like Joshua Gaylord and Daniel Kraus before him, author Erik Therme explores the angst of disconnected youth in his enthralling and powerful Roam. Therme's darkly tinged novel is an unforgettable tale of three errant souls brutalized by life's cruel circumstances, and a remarkable night of discovery and violence that will change them forever.
About Erik Therme
Erik Therme has thrashed in garage bands, inadvertently harbored runaways, and met Darth Vader. When he's not at his computer, he can be found cheering for his youngest daughter's volleyball team, or watching horror movies with his seventeen-year-old. He currently resides in Iowa City, Iowa—one of only twenty places in the world UNESCO has certified as a City of Literature.
Website
https://www.eriktherme.com
Twitter

Facebook

Goodreads
https://www.goodreads.com/author/list/7831573.Erik_Therme