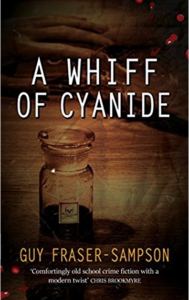 The Blurb
The third volume of the bestselling Hampstead Murders sees the team become involved with a suspicious death at a crime writers' convention. Is this the result of a bitterly contested election for the Chair of the Crime Writers' Association or are even darker forces at work? Peter Collins, who is attending the convention as the author of a new book on poisoning in Golden Age fiction, worries that the key clue to unlock this puzzle may be buried within his own memories. A character called Miss Marple offers her advice, but how should the police receive this? Meanwhile an act of sudden, shocking violence and a dramatic revelation threaten tragic consequences…
My Thoughts
I am a big fan of Fraser-Sampson's Hampstead Murders and always look forward to the next instalment. A Whiff of Cyanide is a fantastic addition to the series and I thoroughly enjoyed it. Originally, I believe this was going to be a trilogy and I was thrilled to recently learn that there will be more books in the series.
Settling into A Whiff of Cyanide felt very much like meeting up with a group of old friends that you are completely comfortable with. I adore the characters and was pleased to be spending time with Bob Metcalfe, Karen Willis, Peter Collins and Simon Collison again.
A Whiff of Cyanide begins with a re-introduction to the characters and along with setting the scene it works perfectly as a refresher covering the salient points of the last two novels without going over old ground. This works perfectly as a reminder about where we had left the characters in the previous two books and also as an introduction to those who may be reading this as their first in the series. A Whiff of Cyanide does work as a standalone, however, you really are missing out if you don't read Death in Profile and Miss Christie Regrets first.
An author dies during a crime writer's convention that Peter is attending. Unsure as to whether her death is suicide or murder, the team have to investigate to get to the bottom of her death. What I love about these books is the use of old-fashioned detective work rather than reliance on modern-day forensic science and A Whiff of Cyanide is no different. Full of twists and turns that I never saw coming, I was hooked from the start and relished every surprise and revelation. I am so pleased this is not the last in the series.
The tongue-in-cheek humour throughout A Whiff of Cyanide makes this book all the more enjoyable. There is a character called Miss Marple and the setting of a writer's convention gives Fraser-Sampson the opportunity to poke fun at his profession but, I hasten to add, not in a derogatory way. It adds another layer to the book. The references amongst the characters as to what would happen in a Golden Age crime novel which then go on to occur within the book is genius.
A great addition to the Hampstead Murders series, A Whiff of Cyanide lived up to my expectations and, dare I say, may be my favourite in the series so far. It has all of the charm and manners you would expect alongside a meticulous plot and twists that ensure you can't wait for the next instalment. Fantastic and highly recommended. A Whiff of Cyanide is a welcome antidote to the current crime novels on the market.
Published on 2 June 2017 by Urbane Publications.
A huge thank you to Guy Fraser-Sampson and Urbane for my copy in exchange for my honest and unbiased review.
Check out my reviews of Death in Profile and Miss Christie Regrets.