Happy hump day folks! I'm joined by GB Williams today for more bookish talk in this week's Author Influences.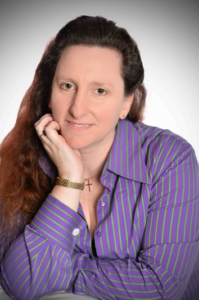 Which authors/books did you like to read as a child?
Odd ones. I read a fair bit of Enid Blyton, but I've always been a very slow reader, so didn't even read all of those. The books that I remember most – because I've struggled to get hold of them as an adult – were Fattypuffs and Thinifers and Bottersnikes and Gumbles. As I got into my teens, I turned to authors like Paul Zindel, Steve Jackson and Ian Livingstone, Weis and Hickmen, David Eddings and a lot of other writers no one now will ever have heard off.
Were you good at English at school? Did you like it?
Oh definite mixed answer to that one. I cannot spell for toffee, my handwriting is awful, and grammar isn't my forte, so I wasn't exactly popular with the English teachers. However, when they could read my writing – they tended to like my compositions. Even once wrote a play they wanted to send to the drama department to put on. I was never the top of the class, but I always could tell a good story. I did not enjoy English Literature classes. Take a book, analyse it to death, tell me my interpretations were wrong just because I didn't see it the way they did, leading to good books and poetry permanently ruined for me.
What genres do you like to read? Have they had an impact on the genre you write?
Mostly crime, but also steampunk/fantasy. Well the old adage is write what you know, so I guess it has influenced what I write because these are the genres I chose to work in.
If you were to write a different genre what would it be and why?
This is a surprisingly difficult question because while most of my stuff is contemporary crime, I already write (and get published) in steampunk and erotica. I guess if I went anywhere else it would be horror. Deep dark, can't-sell-because-they'd-lock-you-up, dangerous, gory horror. Mind, I also have two such stories in two horror anthologies, so not really sure where to go with this now…
Did any author's work encourage you to pick up your pen and write and if so who, what and why?
No one from my youth springs to mind, but I do remember thinking at lot when I was teens and twenties that some of the stuff was so bad I couldn't see how it was getting published and being certain that I could do better, but I couldn't give you the names of those authors now. But of late I think Simon Kernick is the one I would have to say I would most like to write like. He's got that easy of flow and readability that really does keep me turning the pages and I'd love to have the same affect on my readers.
Are there any authors who, as soon as they publish a new book, you have to get it?
Not so much these days. Used to be that I'd have to have anything by Simon Kernick, but I still haven't got the last couple. Have to say this is mostly because I have a To Be Read pile that's taller than I am. Similarly with Christopher Brookmyre, from the first of his I read (The Sacred Art of Stealing) I was hooked on his style and I brought everything he published – right up to Pandaemonium, which I didn't even bother to finish reading. Have not read with one since, though I'm assured that if you skip Pandaemonium, the later ones are great again. So maybe once the TBR pile is down again…
Which books have you read that have made you think 'Wow, I wish I had written that' and what was it about the book?
Can't say I've ever thought that about any book I've read, because if I'd have written that book, the twists wouldn't have surprised me. But as I've said would love to be able to write like Simon Kernick, so for pace, characters and action, I guess The Business of Dying would be the closest thing to a book I wish I could have written.
Have any of your plots/characters been influenced by real life events/people? (Be careful, I don't want you getting sued!)
Yes. There was a robbery in my home town of Tonbridge a few years ago and there is a detail from that that I wrote into the second book of the Locked Series Locked In, but I'm not giving away what the detail was. As for people, there is a character in an unpublished physiological thriller which I have, who is a direct interpretation of a teacher of mine from secondary school. Doubtless there are others, but mostly that will be subconsciously.
Thank you for taking part Gail. Great answers. I can say that Chris Brookmyre's later books are brilliant!
GB's latest book Locked Up is out now. Here is what it's about: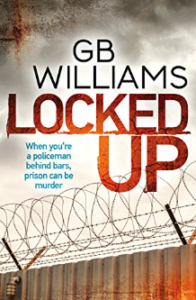 An unmissable crime thriller
A prison officer and a convicted killer must work together to solve a brutal murder and expose conspiracy inside a prison.
Ariadne Teddington is surrounded by people who lie but that is to be expected when you work in prison where every man claims to be innocent.
Charlie Bell, an ex Detective, now finds himself in that prison serving time for murder after having taken the law into his own hands.
When a fellow inmate is killed Charlie is asked to investigate the case from the inside. Soon Charlie finds himself working with Ariande but she is a guard, he is an inmate and some lines should never be crossed…
Can two people on different sides of the law come together to solve the case?
And do the answers lie closer to home than anyone ever imagined?
About GB Williams
GB lives in her own private dungeon populated with all the weird and the wonderful she can imagine. Some of it's very weird, and the odd bits and pieces are absolutely wonderful. With a vivid imagination fuelled by a near death experience at the age of three, there was really no other choice for Gail than to write, something she's been doing her for as long as she can remember. She's tried not doing it, but it never works for long, her brain gets itchy if she hasn't written anything for a couple of days. A freelance editor and keen reader, she really needs to learn to sleep.
Originally from Kent, GB moved to South Wales as a supposed first step on a year around the world. Then she met a guy. Kept the guy, kissed the travel goodbye. Besides, GB knows the best way to travel is by book. GB now has two grown-up children, the world's most imperious cat, a house full of books and a hard drive full of manuscripts (though some will never be allowed out of the dungeon).
Books:
Locked In 
Shades of Aether 
Last Cut Casebook
Steel & Bone
Twitter: @GailBWilliams
Facebook:
Blog: https://thewriteroute.wordpress.com/
Website: https://www.gailbwilliams.com