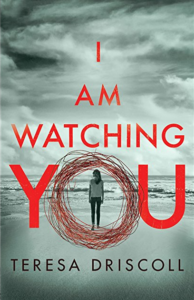 The Blurb
What would it take to make you intervene?
When Ella Longfield overhears two attractive young men flirting with teenage girls on a train, she thinks nothing of it—until she realises they are fresh out of prison and her maternal instinct is put on high alert. But just as she's decided to call for help, something stops her. The next day, she wakes up to the news that one of the girls—beautiful, green-eyed Anna Ballard—has disappeared.
A year later, Anna is still missing. Ella is wracked with guilt over what she failed to do, and she's not the only one who can't forget. Someone is sending her threatening letters—letters that make her fear for her life.
Then an anniversary appeal reveals that Anna's friends and family might have something to hide. Anna's best friend, Sarah, hasn't been telling the whole truth about what really happened that night—and her parents have been keeping secrets of their own.
Someone knows where Anna is—and they're not telling. But they are watching Ella.
My Thoughts
I really enjoyed Last Kiss Goodnight by Teresa Driscoll which comes under the genre of 'women's fiction' and I was interested to see her take a different direction with I Am Watching You, her first psychological thriller.
I Am Watching You has an interesting premise in that it follows the people involved with a teenage girl, Anna, a year after she has disappeared. Each chapter is told from the point of view of a different person, in this case the witness, the father, the friend and the private investigator. A further voice punctuates the book at intervals and is headed 'Watching'. I loved the way the first chapter is told from Ella the witnesses point of view in second person narrative as this serves to immediately draw the reader in and make them feel involved in the book and the life of Ella.
It becomes clear immediately that I Am Watching You is not simply a thriller but also an examination of the ripple effect of a crime on those directly and those inadvertently involved. While the characters berate themselves about what they could possibly have done differently and examine their actions leading up to the moment that Anna disappeared, I found myself asking myself how I would have reacted in Ella's position.
As the investigation into Anna's disappearance unfurls hidden family secrets amongst those closest to her, we clearly see how the events of the previous year have highlighted the weaknesses in the relationships of those closest to Anna. This aspect of the knock-on effect was my favourite part of the book and Driscoll has done a great job of exploring this.
Inevitably, I spent time trying to figure out 'whodunnit' and was satisfyingly wrong! The ending came as a total surprise but I am not sure how I felt about it. It felt kind of random and maybe hearing more from the protagonist and about Anna's life pre-disappearance could have helped it work a little more for me. However, Driscoll has done a great job with her first psychological thriller and I look forward to reading more by her in this genre.
An interesting concept that gets you considering the wider implications of a crime, I Am Watching You is a good first psychological thriller by Driscoll.
I Am Watching You was published on 1 October 2017 by Thomas & Mercer.
A huge thank you to Teresa Drsicoll, Thomas & Mercer and Netgalley for my copy in exchange for my unbiased and honest review.