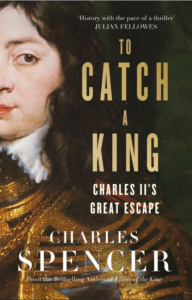 The Blurb
How did the most wanted man in the country outwit the greatest manhunt in British history?
In January 1649, King Charles I was beheaded in London outside his palace of Whitehall and Britain became a republic. When his eldest son, Charles, returned in 1651 to fight for his throne, he was crushed by the might of Cromwell's armies at the battle of Worcester.
With 3,000 of his supporters lying dead and 10,000 taken prisoner, it seemed as if his dreams of power had been dashed. Surely it was a foregone conclusion that he would now be caught and follow his father to the block? At six foot two inches tall, the prince towered over his contemporaries and with dark skin inherited from his French-Italian mother, he stood out in a crowd. How would he fare on the run with Cromwell's soldiers on his tail and a vast price on his head?
The next six weeks would form the most memorable and dramatic of Charles' life. Pursued relentlessly, Charles ran using disguise, deception and relying on grit, fortitude and good luck. He suffered grievously through weeks when his cause seemed hopeless. He hid in an oak tree – an event so fabled that over 400 English pubs are named Royal Oak in commemoration. Less well-known events include his witnessing a village in wild celebrations at the erroneous news of his killing; the ordeal of a medical student wrongly imprisoned because of his similarity in looks; he disguised himself as a servant and as one half of an eloping couple. Once restored to the throne as Charles II, he told the tale of his escapades to Samuel Pepys, who transcribed it all.
In this gripping, action-packed, true adventure story, based on extensive archive material, Charles Spencer, bestselling author of Killers of the King, uses Pepys's account and many others to retell this epic adventure.
My Thoughts
While I was eager to read To Catch a King as I have always liked history, I was a little apprehensive about whether or not I would be able to get into it as my interests tend to lie in modern British and European history. My knowledge of the monarchy and Britain in the 17th Century is sketchy at best. However, I needn't have worried as Charles Spencer has written a pacey historical novel in which the momentum never lets up and which is easy to follow.
In January 1649 Charles I was beheaded and Britain became a republic. Next in line to the throne, Charles II was safely ensconced in France, however, he returned to England in 1651 to fight for his throne. Defeated in battle, the next six weeks Charles spent on the run from Cromwell and the New Model Army and it is this hair-raising tale that Spencer tells us in To Catch a King.
While in the back of mind I knew about the brutality often displayed in early Britain, I was quite taken aback about the extent of it and it was really put into context for me in in this true account. I was also surprised about the level of propaganda used during this period, for some reason I considered propaganda and the use of media to be a more recent phenomenon, but Spencer highlights how it was used during this period.
The seventeenth century was certainly a tumultuous time in British History with civil war and harsh punishments for those who showed allegiance to the monarchy and those who practised Roman Catholicism. I was bowled over by the unswerving loyalty displayed to Charles II by those that helped him especially in the face of the punishments that would be meted out to them if they were caught. To Catch a King is easily up there with the thrillers I have read this year yet it has the added edge of being true. That Charles II and his entourage pulled of this feat during times in which the means to communicate were substantially more difficult than they are now is truly amazing and I can't believe that I did not know more about this escapade. I was also unaware as to why there are so many pubs in Britain called The Royal Oak and the story behind this is brilliant.
To Catch a King took me longer to read than a book normally would and this was in part due to me keeping track of the substantial cast of characters but also because I wanted to savour it. Spencer has clearly taken considerable care in his research and it is a book that begs to be taken in gradually. Incredibly well written, Spencer has captured the time period perfectly and yet made To Catch a King accessible and readable. I really appreciated the final chapters of the book in which we learn, briefly, about Charles II's time during the Restoration and what happened to those who helped him.
A great read for history lovers and those who like pacey thrillers. While I did not doubt Spencer's ability to write, I have to confess to enjoying To Catch a King a lot more than I thought I would. A great slice of British history told in a compelling way.
Published on 5 October 2017 by William Collins you can purchase a copy HERE.
A huge thank you to Charles Spencer and Harper Collins for my copy in exchange for my honest and unbiased review.