I am beyond delighted to have the author of one of my favourite books of 2017 joining me today … it's Su Bristow! Read on to find out more about Su's favourite books and authors.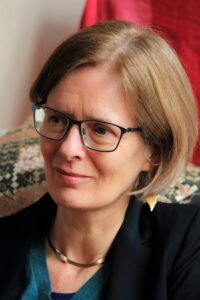 Which authors/books did you like to read as a child?
We lived on the outskirts of a small village, so as a young child, my options were limited. There was a very small branch library in the church hall, which was open for a few hours a week. When I was seven I joined the Brownies, which meant staying in the village after school, so I went to the library and read my way through everything. What stands out in my memory? Biographies of famous scientists, like Marie Curie and Thomas Edison. Lives of the saints. Myths and fairy tales. And in fiction, of course, C S Lewis.
My parents weren't readers, but after my grandfather died when I was about eight, his books were all put in a trunk in an outhouse, and I braved the spiders and mice and worked my way through them. Rider Haggard and Laurens van der Post were a wonderful discovery; definitely not standard reading for a little girl! Meanwhile, back in my grandmother's house, there was historical fiction and romance. Elizabeth Goudge, Baroness Orczy and Jean Plaidy were my favourites there. Grown up books were what was available, so that was what I read. Not reading was never an option.
Were you good at English at school? Did you like it?
I loved English, always, and it was definitely my best subject at primary school, all the way through to A level alongside German, Latin and (ancient) Greek. Words in any language! Learning to love science and medicine came later, at university.
What genres do you like to read? Have they had an impact on the genre you write?
I think everything you read, especially when you're young, has an impact on your writing – and your thinking too, of course. In my teens, with access to a proper library in town, I read my way through all sorts of literary fiction, science fiction, fantasy, historical, horror, humour, poetry…you name it. I came later to crime fiction. Nowadays, I'll still read almost anything. I think the style of writing is something I respond to when I'm reading, probably more than the genre.
If you were to write a different genre what would it be and why?
First I'd have to decide what my genre actually is! I think my publisher (Karen Sullivan of Orenda Books) would describe Sealskin as literary; and within that category, magical realism.
If I were to write a different genre, it might be young adult or high fantasy; I have unwritten stories from way back that might get told one day.
Did any author's work encourage you to pick up your pen and write and if so who, what and why?
There have been so many. But there are some that really excite me: Angela Carter, Ursula le Guin, Alan Garner, to name a few. People working with old stories or 'big' themes and bringing them into everyday reality.
Are there any authors who, as soon as they publish a new book, you have to get it?
Well, I've just got a signed copy of Robin Hobb's latest, Assassin's Fate. But the pile under the bed doesn't seem to get any smaller. I know a lot of writers these days, and they will keep writing new books!
Which books have you read that have made you think 'Wow, I wish I had written that' and what was it about the book?
Le Guin's Earthsea trilogy comes close to perfection, I think. The beautiful writing, building of story and character, the way magic and Taoism and environmentalist philosophy are woven into the fabric of the novels, are all just stunning.
Have any of your plots/characters been influenced by real life events/people? (Be careful, I don't want you getting sued!)
Yes, definitely. I have a nephew with very severe eczema, and I've seen how isolating and disabling it can be. That went into the creation of Donald in Sealskin, though that's where the similarity ends. And Bridie's work as a herbalist and healer is partly based on my own experience. On another level, my years of working with patients as they grow and change have taught me that people can bring themselves back from some very dark places, and make good even after getting it badly wrong at first.
A huge thank Su for taking part and for the wonderful answers.
It's a pleasure. Thank you for the invitation!
Su's beautiful debut novel Sealskin is out now. You can read my review of this beautiful book HERE.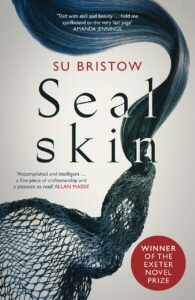 What happens when magic collides with reality?
Donald is a young fisherman, eking out a lonely living on the west coast of Scotland. One night he witnesses something miraculous … and makes a terrible mistake. His action changes lives – not only his own, but those of his family and the entire tightly knit community in which they live. Can he ever atone for the wrong he has done, and can love grow when its foundation is violence? Based on the legend of the selkies – seals who can transform into people – Sealskin is a magical story, evoking the harsh beauty of the landscape, the resilience of its people, both human and animal, and the triumph of hope over fear and prejudice. With exquisite grace, Su Bristow transports us to a different world, subtly and beautifully exploring what it means to be an outsider, and our innate capacity for forgiveness and acceptance.
About Su Bristow
Su Bristow is a consultant medical herbalist by day. She's the author of two books on
herbal medicine: The Herbal Medicine Chest and The Herb Handbook; and two on
relationship skills: The Courage to Love and Falling in Love, Staying in Love, cowritten
with psychotherapist, Malcolm Stern. Her published fiction includes 'Troll
Steps' (in the anthology, Barcelona to Bihar), and 'Changes' which came second in the
2010 CreativeWritingMatters flash fiction competition. Her debut novel, Sealskin, is
set in the Hebrides, and it's a reworking of the Scottish legend of the selkies, or seals
who can turn into people. It won the Exeter Novel Prize 2013. Her writing has been
described as 'magical realism; Angela Carter meets Eowyn Ivey'.
Twitter: