Regular readers of Bloomin' Brilliant Books will know that I'm a big fan of Tom Bale's books and I'm de-bloody-lighted to be kicking off the blog tour for his latest novel Each Little Lie with the lovely Chelle at Chelle's Book Reviews.  It is publication day today so a huge happy book birthday to Tom and the Bookouture team!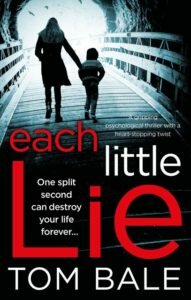 Firstly what is Each Little Lie about?
The Blurb
One split second can destroy your life forever.
Single mother Jen Cornish is just trying to hold things together for the sake of her seven-year-old son Charlie. Until the day when she does an impulsive good deed to help a neighbour, setting off a terrifying chain of events that quickly spirals out of control…
When she is arrested for a crime she didn't commit, Jen quickly starts to wonder if someone is playing a cruel game with her – or is she losing her mind?
Desperate to clear her name with the police, she must first untangle a chilling web of lies. But someone is watching her every move – and it isn't just Jen who is in danger.
They're watching her child as well.
An unputdownable psychological thriller with plenty of twists that will keep you hooked until the very last page…
Sounds good right? So what did I think?
My Thoughts
When Jen Cornish takes action to help out a neighbour who has lost her keys, little does she know that this split-second decision will change her life beyond recognition. Bale has the ability to make an everyday, mundane event into a terrifying experience, twisting the ordinary into the extraordinary in a way that makes you look again at those little decisions you make in your life. In Each Little Lie Bale uses this to its full advantage.
Bale's protagonist in Each Little Lie is Jen; recently separated and going through a divorce, and single mum to seven-year-old Charlie. Credit to Bale for creating a likeable and believable character and effectively making her voice, thoughts and feelings female in tone. I completely forgot that the author was male! I warmed to her immediately, could empathise with her completely and was on her side throughout the whole journey. When she is arrested for a crime she did not commit, Bale gets to the very heart of a fear that all of us, at some point, have probably thought 'what if?' about, especially in the wake of television programmes such as 'Making a Murderer'.
You are pulled into the story immediately and the plot and pace doesn't let you go until you have reached the shocking climax. It has been a while since I last really devoured a book, but I read Each Little Lie within a couple of days as I just had to know what would happen. Just as you think the story is wrapping up, Bale takes it up another notch with unexpected twists that you don't see coming.
Within the storyline there is the premise that money can pretty much buy you anything, including manipulation of the justice system. Full of particularly odious characters, Bale had my teeth set on edge and my skin crawling at some of their actions. He does not hold back when creating that cringe factor, letting it rip for maximum effect. This makes for creepy reading that gets right under your skin!
Each Little Lie has you perched on the edge of your seat throughout, and by the end of the book your nails are bitten down to the quick. Bale is a real master of the thriller, twisting everyday life into the horrifying with a plot that hurtles along at an unprecedented rate. Brilliant!
A huge thank you to Tom Bale and Kim Nash at Bookouture for the advance copy and for inviting me to take part in the blog tour.
Published on 29 June 2017 by Bookouture. You can purchase your copy here:
UK 🇬🇧 http://amzn.to/2qUMvVj
US 🇺🇸 http://amzn.to/2qU9ORi
Follow the rest of the tour…