I am delighted to be kick starting the blog tour for Dan Knew by FJ Curlew today and sharing my review on this story about a little dog with a big personality. Before I share my thoughts, here is what the book is about…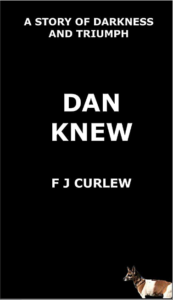 The Blurb
A puppy born to the dangers of street life. A woman in trouble. An unbreakable bond.
A Ukrainian street dog is rescued from certain death by an expat family. As he travels to new countries with them a darkness grows and he finds himself narrating more than just his story. More than a dog story. Ultimately it's a story of escape and survival but maybe not his.
The world through Wee Dan's eyes in a voice that will stay with you long after you turn that last page.
My Thoughts
I absolutely adore dogs to the extent that in a film or book I am always more upset by the death or injury of a dog than I am about the humans. Knowing that Curlew is as mad about dogs as I am, I was thrilled to be able to read and review Dan Knew.
Dan Knew is a very personal book about the life of Curlew's best canine friend, wee Dan, who she sadly recently lost. It is told from the perspective of Dan from his brief time as a stray on the streets of the Ukraine to the life he has with the family who rescue him. It is a book that follows him on his journey around Europe as he learns all about what it is to be a canine and the nature of humans.
I couldn't help but fall in love with Dan and I felt as though I actually knew him by the end of the book. Dan's voice comes across as being truly canine and a lot of his thoughts and behaviour really resonated with me as I could see him in the dogs I have owned. Curlew really captures the individual personalities of Dan and his canine family members. From Dan who is quite serious in nature and very much sees himself as the protector of his family, Ceilidh the wiser, older dog who Dan learns so much from, Lada the laid back, gentle bear of a Newfoundland to Jake the crazy Labrador with boundless energy. I adored the way we saw each of the dogs through Dan's eyes as I often wonder about what my own dogs think of each other and I found myself laughing at Dan's observations of his family members. Dan Knew brought back so many wonderful memories of my own dogs.
Dan Knew is also the story of the lives of the human members of his family and, as is often the way with humans, this does not always run smoothly. There is a serious thread to this book as Dan learns that human beings are complicated creatures and often behave in ways that hurt those they are supposed to love. Seeing the unfathomable behaviour of human nature from the perspective of a different species is a unique take on what is, sadly, an all too familiar story. Dan Knew touches a real emotional cord within the reader as they follow the difficulties Dan's mum goes through and it had me smiling and crying in equal measure. I warn you now, you will need tissues for the ending!
Curlew captures the essence of the canine while intertwining this with a tale about human relationships and adversity. She takes us on a real journey through interesting countries, life and friendship. Whether you are a dog lover or not, you will not fail to be moved by this story of the bond that can exist between different species. There is now a Dan-shaped space in my heart and Curlew has written a fitting tribute to a very special friend.
Dan Knew is out now and can be purchased HERE.
A huge thank you to FJ Curlew for the advance copy and for inviting me to take part in the blog tour. Want to find out about Fiona's favourite books and authors? Read her Author Influences HERE.
Follow the rest of the tour for more reviews and author guest posts…