After a break last week (mainly due to me being disorganised!) Author Influences is back this week and I'm really pleased to be joined by Tony J Forder!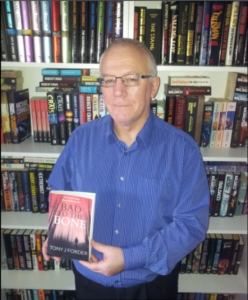 Which authors/books did you like to read as a child?
Enid Blyton, Richmal Crompton and Anthony Buckeridge were early favourites, soon followed by both Alan Garner and Paul Gallico as I got a little older.
Were you good at English at school? Did you like it?
Other than art it was my favourite subject, and it was also my best subject – especially composition.
What genres do you like to read? Have they had an impact on the genre you write?
I read crime, thrillers, espionage. I also still enjoy fantasy. The crime/thriller genre has had a massive influence as it is what I now choose to write. All of my potential storylines reflect this genre.
If you were to write a different genre what would it be and why?
Fantasy – I began writing in that genre, but feel I am now experienced enough to pull it off rather than be derivative. I'd like the freedom it provides, allowing me to make up anything I like and know that readers can't pick it apart for authenticity.
Did any author's work encourage you to pick up your pen and write and if so who, what and why?
Alan Garner – The Weirdstone of Brisingamen was the first fantasy novel I ever read, and it both captivated me and freed my imagination. I started writing almost immediately after finishing that book. Although I have strayed from the genre, it opened doors inside my head – doors I hadn't even known existed.
Are there any authors who, as soon as they publish a new book, you have to get it?
Michael Connelly – in my view simply the best crime novelist on the planet. Also people like Robert Crais, Lee Child, Mark Greaney and, in recent years, Mason Cross.
Which books have you read that have made you think 'Wow, I wish I had written that' and what was it about the book?
The Silence of the Lambs for its razor-sharp prose and characterisation; A Christmas Carol for the author's ability to find something majestic in minutiae; The Poet for its plotting.
Have any of your plots/characters been influenced by real life events/people? (Be careful, I don't want you getting sued!)
Something I have just started writing is somewhat influenced by two old murder cases I was reading about – unsolved murders at that. I can't say more than that, but suffice to say either would have been a fine plot, but throwing the two together into the same pot intrigues the hell out of me. My characters are often an amalgalm of people I know or have met, and one of them is more than a little autobiographical.
A huge thank you for taking part and for the great answers.
An equally huge thank you for allowing me to – it is greatly appreciated.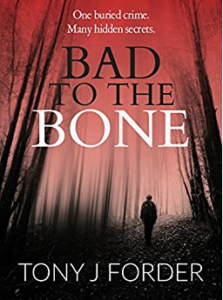 Tony's current novel Bad to the Bone is out now. Here's what it is about:
A skeletal body is unearthed in a wooded area of Peterborough, Cambridgeshire. DI James Bliss, together with DC Penny Chandler, investigate the case and discover that the young, female victim had been relocated from its original burial site.
A witness is convinced that a young female was struck by a vehicle back in the summer of 1990, and that police attended the scene. However, no record exists of either the accident or the reported victim. As the case develops, two retired police officers are murdered. The two are linked with others who were on duty at the time a road accident was reported.
As Bliss and Chandler delve deeper into the investigation, they start to question whether senior officers may have been involved in the murder of the young women who was buried in the woods.
As each link in the chain is put under duress, so is Bliss who clashes with superiors and the media.
When his team receives targeted warnings, Bliss will need to decide whether to drop the case or to pursue those responsible.
Will Bliss walk away in order to keep his career intact or will he fight no matter what the cost?
And is it possible the killer is much closer than they imagined?
About Tony J Forder
Long ago, back in the mists of time, when I was filled with ambition and brimming with ideas, I wrote a short story for a national competition. The competition was judged by an editor from Pan Books, who liked it enough to choose it as the winner, and to also publish my work in the forthcoming Dark Voices series, which had replaced the famous Pan Book of Horror Stories. And so it was that Gino's Bar and Grille became my first published piece, in Dark Voices II.
Over a short period, three more stories of mine were published: Character Role, in Fear magazine; A Grim Story, in Rattler's Tales; and then Book End, my second story for Pan in Dark Voices IV.
Following a conversation with author Brian Lumley, at a book signing for Dark Voices II, I began to feel as if I belonged amongst the writing fraternity. I also started to think that maybe, just maybe, I had a novel in me.
What followed were two horror/dark fantasy novels of moderate quality. But, I told myself, I am learning my craft. The first book of mine I even came close to liking was Degrees of Darkness, and I delighted in scaring the crap out of friends and family who read it. A follow-up never really saw the light of day.
On 1st February 2017, Bloodhound Books announced they had signed me to their stable of writers. On Saturday 29 April they will release Bad to the Bone. Bloodhound have also signed me to write a second title in the series.
With Degrees of Darkness also due to be published later in 2017, I am currently busy working on two more novels.
Links
Website: https://www.tonyjforder.com
Amazon: https://www.amazon.co.uk/Bad-Bone-Tony-J-Forder-ebook/dp/B071KTJJBH
Twitter:
Facebook: