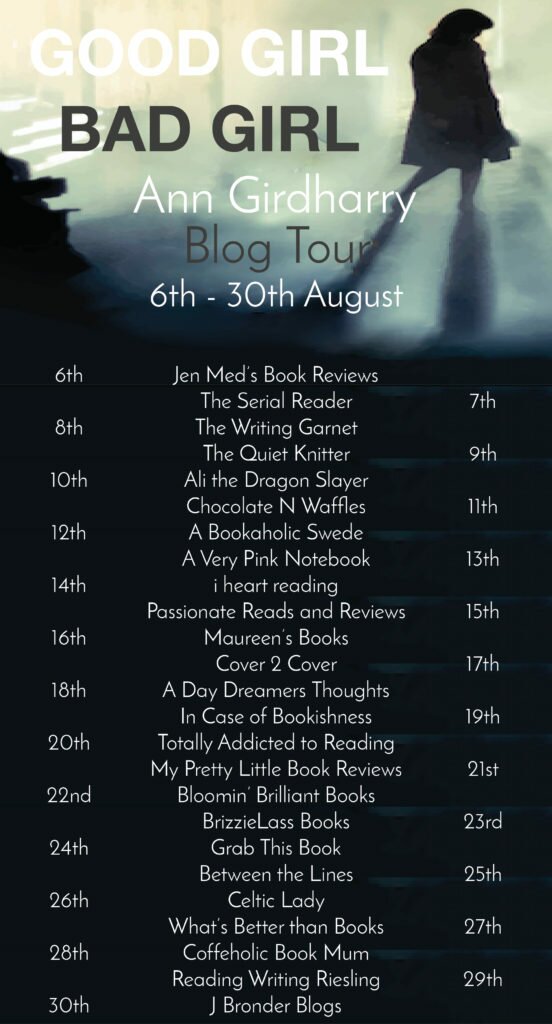 I'm thrilled today to be the next stop on the Good Girl Bad Girl Blog Tour.  You can find out about Ann Girdharry's debut novel, find out what I thought about it and a bit more about Ann.
The Blurb
Mother missing, the discovery of a powerful and corrupt syndicate and dark secrets about her father revealed leaves 28-year old Kal determined to pursue her own investigations, no matter what sinister truths she uncovers, in this intense psychological thriller.
Kal is convinced her investigative journalist mother must have been working on a controversial, and top level, news story, it is the only explanation for her sudden and suspicious disappearance. Although mistrustful of the police, Kal allows Detective Inspector Spinks, the officer assigned to her mother's case, to accompany her when she visits her grandmother to break the news. What they don't expect is to uncover a file of shocking research cataloguing the deviant activities of seven members of London's political and business elite. Back on the streets of London, the survival instincts and specialist expertise she learned from her late father, kick into overdrive, as Kal resolves to not only find her mother but continue her work and unveil the conspiracy hidden amongst those in power.
My Review
From the very start I was hooked. Ann effectively opens Good Girl Bad Girl with a first chapter that leaves a lot of questions in the mind of the reader that you just have to find the answers to. What has happened to her mother? Why have the family been receiving threatening notes? What was the main character's father teaching her as a child that was so unusual?
Kal, a photojournalist, is dragged into a seedy underworld following the sudden disappearance of her mother. Taken on a journey she didn't expect to be a part of, the reader follows her every step of the way. The intrigue and action does not let up, eventually resulting in the climatic conclusion.
Kal Medi is a great character. She is independent, intelligent, single-minded and strong and yet I was able to empathise with her as you get glimpses into her vulnerabilities which make her all the more human and relatable to. The relationship she had with her father is an interesting one and adds another layer to both the character and the story. This is the first in what is going to be a series of books and I really look forward to meeting Kal again.
Good Girl Bad Girl has a cleverly woven plot, with what initially feels like three disparate storylines coming together perfectly. The psychological element was something I loved. It is clear that Ann knows a lot about psychology and Kal's observations of and descriptions of the other characters add an extra layer to this book. The way Ann describes the nuances of how the emotions effected Kal physically really made me go through what Kal was going through.
An intelligently written, multi-layered psychological thriller, I really enjoyed Good Girl Bad Girl and look forward to reading the next Kal Medi book.
Published on 23 August 2016 by Create Space and Kindle Direct.
About the Author
Born and educated in the UK, Ann Girdharry is a trained psychotherapist and has worked as a manager in the not-for-profit sector for many years for agencies working with: carers, vulnerable older people and those with dementia, survivors of abuse, and victims of racism and racial attacks. Today she lives in Montpellier, France with her husband and two children. As well as her passion for writing, Ann enjoys gardening and is a member of her local roller blading club.
Ann has previously published a series of short stories called Tales of the Unexpected (2015-2016). Her debut novel, and the first in the Kal Medi series, Good Girl Bad Girl by Ann Girdharry (published by CreateSpace and Kindle Direct Publishing 23rd August 2016 RRP £8.99 paperback, £3.99 ebook) is available to purchase from online retailers including amazon.co.uk and to order from all good bookstores.
You can connect with Ann via her website www.girdharry.com and on Twitter @GirdharryAnn
A huge thank you to Ann and Authoright for the advance copy of Good Girl Bad Girl and for inviting me to be part of the Blog Tour.  Be sure to catch the rest of the stops!