I am delighted to be one of today's blogs hosting on the Reconciliation For The Dead blog tour with Lorraine at The Book Review Cafe. Let me tell you this was not an easy review to write and it is an incredibly hard-hitting book but I am so glad I have read it!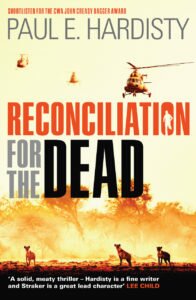 The Blurb
Sequel to the critically acclaimed The Abrupt Physics of Dying and The Evolution of Fear.
Fresh from events in Yemen and Cyprus, vigilante justice-seeker Claymore Straker returns to South Africa, seeking absolution for the sins of his past. Over four days, he testifies to Desmond Tutu's newly established Truth and Reconciliation Commission, recounting the shattering events that led to his dishonourable discharge and exile, fifteen years earlier.
It was 1980. The height of the Cold War. Clay is a young paratrooper in the South African Army, fighting in Angola against the Communist insurgency that threatens to topple the White Apartheid regime. On a patrol deep inside Angola, Clay, and his best friend, Eben Barstow, find themselves enmeshed in a tangled conspiracy that threatens everything they have been taught to believe about war, and the sacrifices that they, and their brothers in arms, are expected to make. Witness and unwitting accomplice to an act of shocking brutality, Clay changes allegiance and finds himself labelled a deserter and accused of high treason, setting him on a journey into the dark, twisted heart of institutionalised hatred, from which no one will emerge unscathed.
Exploring true events from one of the most hateful chapters in South African history, Reconciliation for the Dead is a shocking, explosive and gripping thriller from one finest writers in contemporary crime fiction.
My Thoughts
'…this neighbourhood so like the one he grew up in, the presumption of superiority as much a part of the place as the large, fenced gardens and the pools and the little backyard shacks for the black help.'
How on earth do you even begin to review a book like Hardisty's Reconciliation For The Dead? It is a nerve-jangling thriller that is intelligently written with political acuity but it is a difficult read due to its subject matter. It is intensely emotional and hard-hitting. I have always had a mild interest in South Africa as my grandmother was from Cape Town and my mum lived in Rhodesia for a short time as a child. Africa has always struck me as a beautiful country that has sadly been used and raped for its resources. Reconciliation For The Dead sadly confirmed my view and made me aware of atrocities I had no idea had happened … and happened so recently.
It has taken me some time to gather my thoughts after finishing this book, so much was its affect on me. So how to start? Reconciliation For The Dead crosses two timelines. We follow Claymore Straker during his time as a young soldier in South Africa in 1981, and in 1996 as a witness in the South African Truth and Reconciliation Commission. His time as a witness is told via the transcripts which punctuates throughout the story and it is perfectly constructed. I was completely transported to Africa as Hardisty superbly creates the sense of place. From the descriptions of the landscape to the Africaans colloquialisms, Hardisty ensures that you are fully immersed in the surroundings and, therefore, the novel. And this is not the only thing that stands out about his writing, which I will come on to later.
Claymore Straker is a fantastic protagonist. He is tough and gutsy, yet intelligent and able to consider what is going on around him with an open mind. I really felt for him and the positions he found himself in. This is the third book in the Claymore Straker series but it works incredibly well as a standalone, which is how I read it. If you read this as your first in the series I have no doubt that, like me, you will be buying the first two.
Reconciliation For The Dead is more than a thriller … so much more. Hardisty draws on historical facts and writes about them in such a way that the book becomes all engrossing … you cannot get it out of your head and it consumes you. It is clear that Hardisty has carefully researched his subject matter and every page brims with authenticity. As I said, this is more than a thriller, it is a devastating reminder of the potential barbarity of human beings. Unflinchingly raw in its depictions of genocide, Hardisty captures the brutality and horror of war and the indelible mark it leaves on those who partake in it. This is one of the things that makes Straker such a brilliant and, ultimately, real character.
Nothing is left out of Reconciliation For The Dead, from the propaganda used by those in their ivory towers to get others to do their bidding, to the motivations behind war (which is sadly far removed from the sense of keeping people safe as in WW2), and the prejudices which sadly still come down to something as rudimentary as the colour of your skin. Throughout Hardisty writes with emotional acuity and his use of language is beautiful despite the subject matter. It has its moments where it is philosophical in tone and it will make you question everything you ever thought or felt about humanity. Yes, it is bleak and distressing, but Hardisty later reminds us that there is still goodness out there and those who are being treated badly continue to have a great capacity for empathy, concern and care.
Although it is undoubtedly gripping, I had to take regular breaks from the book due to the emotional impact it had on me. This is a book to be read slowly in order to be able to gather your thoughts during various points and, quite frankly, pull yourself together again.
Shocking, raw, and devastating; much like Schindler's List is a film that must be watched, Reconciliation For The Dead is a book that MUST be read to serve as a reminder that, at the end of the day, we are all made the same.
Published on eBook on 22 March 2017 and paperback on 30 May 2017 by Orenda Books.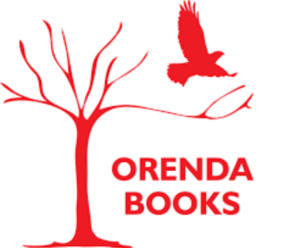 I am still recovering from this book! A huge thank you to Paul E. Hardisty, Karen Sullivan and Anne Cater for my copy of Reconciliation For The Dead and for inviting me to take part in the blog tour.
Follow the tour…