I am delighted to bring you an exclusive excerpt today of Reality Rehab, the debut novel by former producer Lisa Mary London. Grab a coffee, sit back and enjoy!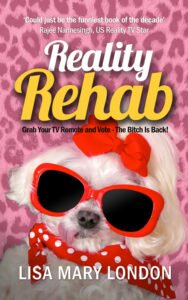 The Blurb
Faded soap star Gloria Grayson swaps banoffee pie for humble pie with a stint on reality TV. But her last ditch bid to salvage her celebrity backfires, when the ex-husband from hell is sprung on her in front of 10 million viewers.
Can Gloria win back A-list status, happy ever after and her Rear of the Year title? Reality is stranger than fiction!
Faded TV star Gloria Grayson has hit rock bottom. Sacked from her starring role in a top soap, divorced from hell-raising actor 'Mad' Tommy Mack, and obese from binge eating, her days as Britain's sexiest blonde are well and truly over.
But her luck changes when cruel paparazzi photos relaunch her career, and she and her fat, feisty dog are booked to appear on TV's Reality Rehab.
Gloria is incarcerated with an American psychotherapist, a rabble of D-list celebrities and umpteen cameras, then put on a starvation diet. But worse is to come, with the shock arrival of her alcoholic ex-husband.
Tears and tantrums ensue as the divorced couple's therapy sessions take over the show, and ratings soar. The other celebrities are infuriated to be sidelined and Reality Rehab fast becomes The Tommy and Glo Show.
But Gloria and Tommy are hiding explosive secrets from each other and 10 million viewers – Reality is stranger than fiction!
Chapter One
Life's A Bitch And Then You Diet
The weirdest thing just happened. A woman walked up to my table at Highgate Bistro and said: 'Excuse me – Didn't you used to be Gloria Grayson?'
I was reading about Kim Kardashian's latest diet in a celebrity magazine, a forkful of steak and chips halfway to my mouth. I was taken aback. Used to be Gloria Grayson? What a strange question. Whatever could she mean?
I put down my cutlery, gave her my most dazzling smile and replied, wittily, that I was still Gloria Grayson the last time I looked. She was a dumpy old lump bless her, but the burden of fame weighs heavy on me. I can't begrudge a fan the chance to bask in my celebrity aura, even a fan as drab as this one. Then I awaited the inevitable selfie request.
But it never came. She just raised a shaggy eyebrow, sniggered and lumbered back to her equally frumpy friend. They're sat two tables down having coffee and tarte tatin. I hope they didn't nab the last slices, that's my favourite dessert. They're whispering and giggling… People can act strangely in the presence of a star. It's intimidating for them I suppose, they're overwhelmed God love 'em.
Come to think of it, it's been a while since I was approached by a fan. When I was on TV every week, the lead actress in Britain's top soap, I was forever being mobbed. Fans chased me down the street pleading for photos and autographs, desperate to cop a feel of a genuine, bona fide star. Well there are so few of us around these days, thanks to reality television and all the ghastly fake celebrities it's spawned.
To a great extent I blame my agent Belinda. She's taken loads of these reality TV types on her books, you know the sort. Nonentities who are famous for absolutely no good reason. People without an ounce of talent, whose hitherto biggest life achievement was producing a bowel movement. These no-marks are NOT celebrities, but Belinda's getting work for them hand over fist and neglecting me, the genuine article!
I wouldn't mind if they had a talent, could dance, sing, tell a joke or even read autocue without squinting. But they can't and they're stealing work off us pros! We've earned our fame the hard way, been to drama school, toured the provinces, slept with TV executives. These cretins spend a fortnight in a house with CCTV cameras and walk out of there megastars. The world's gone mad.
I met that Joey Essex at a showbiz do once. Nice enough lad, but he should be stacking shelves at Homebase, not hosting his own TV shows! He was all over me, horribly star struck. Gushed he was my biggest fan ever, said I was 'Peng' and 'Sick' and begged me to pose for a selfie. I duly obliged and later found he'd posted it to Instagram with the caption: 'Me & Barberra Windser – Wot a carry on, LOL!!!' It got 10,000 Likes and what's more, NO ONE CORRECTED HIM! And this is what the millennial generation calls a celebrity… Liza Minnelli would be spinning in her grave, if she were dead.
Skimpy pile of French fries today, I'm still peckish. I'm sure these bistro portions are getting smaller you know. Maybe I'll order myself a baguette basket. Baby-Girl's fast asleep on the chair beside me in her tutu and tiara, snoring like a tractor. She had bangers and mash with onion gravy and petits pois, licked the plate clean. The vet says she's obese but she looks fine to me. Though recently I've been buying her doggy dresses a size bigger. Last week I had to put my foot in her back to zip up her ra ra skirt… Maybe I won't order her a dessert today…
Well there's nothing else for it with no money coming in, I'm going to have to sell my engagement ring. It's not like it has any sentimental value, I even paid for it myself. Tommy said he'd stump up, but needless to say he never got round to it. Oh I know, I know, the omens were there from the start. Last week I took it to the village jeweller for a valuation and he said the diamond was severely flawed. I said: 'So was the marriage'.
Sad to say, it's the only bit of bling I have left that I haven't sold. Apart from my gold 'GG' necklace, but I wouldn't part with that. Not because Tommy gave it to me you understand, just because… Well it's my signature piece, my trademark if you will. I was pictured wearing it when I picked up Soap's Sexiest Female Award, and at my big leaving bash for Jubilee Road. Oh and in those famous tabloid shots of me throwing Tommy's clothes out of our bedroom window, into the swimming pool. It's funny really, he's the only one who's ever called me GG.
'Pour me a scotch GG, it's medicinal – I'm sick of being sober'.
'Where's that bacon sarnie GG – My belly thinks my throat's been cut'.
'Get me a beer GG – I've got a gob like Gandhi's bum-crack'.
I told him GG made me sound like a horse and he said: 'Well you are an old nag'.
God I'm so glad to be shot of the vodka-soaked loser! What did I ever see in him? I should have married a millionaire, not a third rate actor and first rate drunk. I had my pick of men. I copped off with Richard Branson at a party once, honestly I could kick myself now. Or was it Richard Bacon? I forget. Either way, I could have done a lot better than Tommy!
Sounds brilliant right? Published in the UK on 12 July 2017 you can order your copy now.
About Lisa Mary London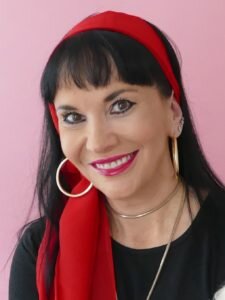 Lisa Mary London went from Chief Reporter on a sleepy Cotswold newspaper to become Celebrity Producer on some of Britain's best-loved TV shows. Her TV credits include An Audience with Ken Dodd, A BAFTA Tribute to Julie Walters, The British Comedy Awards and I'm a Celebrity… Get Me Out of Here! She's worked with stars from Tony Curtis to Ant and Dec, and her debut novel Reality Rehab features around 200 famous names.
'There's never a dull moment when you're working with the stars', says Lisa. 'One minute you're sipping champagne with Pierce Brosnan, the next you're standing in the Ladies' minding Barbara Windsor's handbag.'
Reality Rehab is based on her real life, behind-the-screen experiences as a Celebrity Producer. 'I've met many old school stars like my book's protagonist Gloria, who curse reality TV and think the cast of TOWIE should be stacking shelves at Tesco, not walking the red carpet.
'She's a cross between Diana Dors, Boadicea and Miss Piggy, a glorious, garrulous anti-heroine with bags of fattitude – Gloria puts the real in reality TV!'
Gloria's petulant pooch Baby-Girl is closely based on the book's cover star, Lisa's beloved Maltese Dolly-Dog (says Lisa – 'You couldn't make her up'). Dolly-Dog won fame on ITV's Loose Women when she married Sherrie Hewson's Westie Charlie, in a ceremony officiated by John Barrowman (available on YouTube). The couple split acrimoniously and are currently fighting for custody of a chew toy.
A journalist by profession, Lisa has written for the Daily Mail and was briefly a News of the World reporter, but made her excuses and left before anyone was imprisoned for phone hacking.